Canada Calling! With Your Host, Bruce "e-Mole" Mowat
This Month's Topic: Shut Up & Play Yer Guitar!
By: B.F. "Mole" Mowat



There are times, I swear, when I REALLY DON'T want to hear singers bleat n' blabber about the meaning of life, significant current or ex partners, or about anything. Singers are sooooo problematic: they demand constant attention from the audience, from the manager, from the sound guy. It frankly makes me wonder why there aren't more instrumental groups.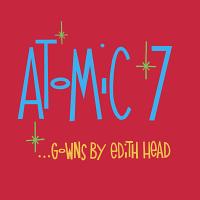 That's why I like this new CD by Atomic 7, Gowns By Edith Head. (Mint Records). There are no intrusive vocals to detract you from SHEER listening pleasure of Brian Connelly's guitar, Clinton Ryder's solid bass, and the mighty, mighty drum sounds of Mike Andreosso. No whining singer-songwriter platitudes, no cutesy ironic references (unless you count Your Ironic T Shirt) no protracted, meandering bouts of angst, just 17 hot licks from three cool cats on one handsome CD.
If Connelly's name sounds vaguely familiar to you, it's probably through his association with the equally mute, Shadowy Men On A Shadowy Planet. You might know THAT outfit from the Kids In The Hall TV series, which may or may not turn up on cable TV station reruns south of the 49th parallel (you tell ME..). Anyhoo, they did that surf-ey theme music for the show. In fact, they were pretty much thee, neo new wave surf band up here in the late '80s, recording eight of cleverly packaged 45's (one of them came with Tiddly-Winks). Three full-length CDs, Savvy Show Stoppers (a collection of their early 45s), Dim The Lights, Chill The Ham, and Sport' Fishin', were released on the Cargo Label. The group called it quits in 1995 and sadly, bassist Reid Diamond passed away in 2001 after a battle with the Big C... (Going waaaay back in the recesses of time, a few of those mooks surfaced in a punque rawk outfit called the Crash Kills Five, which recorded a 45, What Do You Do At Night, back in the very early '80s.)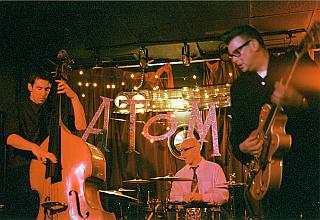 Atomic 7, though, is a different coloured pony. While some of that Shadowy surf action is retained, Connelly & Co. stretch out to include BOTH kinds of music - country AND western Specifically, Mimi, Queen Of Bathurst, which is possibly a word-less tribute to Toronto, Ontario's best known after-hours speakeasy. (e-mail me off-line and I'll give you directions and the secret password...) Not content with mastering one country, the three hombres also turn their attention south of the border, down Mexico way with the chili-dusted Artistry in Nachos. There's a way-cool spaghetti-western via George Romero movie reeler, Day of The Deadbeats (sounds like a day at the e-Mole office!).
Heck, you know what? I actually prefer this CD to the Shadowy Men output. After a half an hour, those guys began to sound like a level hum. This baby shifts gears nicely, and takes the curves well (see Sexy Cool Action). I recommend it, and I hate just about everything. Just like Mikey-- Atomic 7 can be heard on the January episode #4 of Underground Parking.
In other Mint gnus: Carolyn Marks, (the half of the Corn Sisters that isn't Neko Case), once did a tribute to the soundtrack of Robert Altman's Nashville (hmmmm--) & has a CD out called Terrible Hostess. Cha Cha, the 'fiction' editor of e-mole (see www.e-mole.com/14.htm at your own peril) digs the dogpoop outta her, and since Minty Lady Yvette was plying me with much-needed drinks the night I saw her (Sept. Friday the 13th eeeeek) uh, well, go check out the samples at the Mint Site (shown elsewhere on this page.) I'm SUCH a whore -- "just like the rest..."
Gary "Pig" Gold (the "Jersey" editor of e-mole.com) tells me he's going to pay tribute to Zal Yanovsky, the late, great guitar player of the Lovin' Spoonful, in these very same cyber-pages. Zalman was a Canuck, y'know, and released a swell solo LP in 1968 Alive & Well In Argentina. Here's hoping Sundazed or someone like that re-ishes it.."all of the traitors/south of the equator" Zally, we'll miss you--
Well, nobody here bothered to ask ME what my fave CD of '02 was, but I'm gonna tell yuz anyway: Songs In The Key of Zed (as we say it up here) Vol.2 by "Various Artists" (Gammon) Admittedly, it's not as great as the first volume (how could it be?) but any compilation w/Shooby Taylor, Bob Vido, & the grrrrreat Tangela Tricoli is NOT TO BE SNEEZED AT!
My fave Canuck release of '02? The Battleship, Ethel - S/T CD!
My fellow Canucks! Send your stuff to 461 Dundurn Street South, #2nd floor, Hamilton, Ontario, L8P 4M1 CANADA. To my faithful US readership (both of you!): you can send mail there too, but e-mailing me at [email protected] works quicker.
Next month: In Jack We Trust: Jack Pedler drops the "Big One" . D.T Delinquent is the second installment of this veteran drummer's (200 bands including Teenage Head, Ray Materick, & Buxton Kastle) "soak opera' cycle. Both Gary Pig Gold and I agree: it will be thee monster release of '03.