Canada Calling!
By: B.F. "Mole" Mowat



Back in the 20th century, Hamilton, Ontario was known as a hard rockin', rootsy, kinda place. Our best known musical exports were such acts as Teenage Head, glam-punks The Forgotten Rebels, and the various Rompin' Ronnie Hawkins band spin-offs (Crowbar, Jack DeKeyser, King Biscuit Boy etc) .

Nowadays, that city's most active nexus of similar-minded artists only tangentially refers to the fringes of the pop/rock corpus, with such tags as "space-rock", "space-tronic", "noise", and "get that SHIT off the stage" applied by local pundits and yahoos. They are the Electro-shock [ED: Listen to www.creativeradiocentral.com, a site that is currently playing the electro-shock material] vanguard troops, and their numbers are increasing. The following sketches are of the most publicly visible units, although there's much more activity going on beneath the radar . Indeed, there's so much activity, John Merrall of Hypnotech 3 has gone as far as describing Hamilton as being the "Dearborn, Michigan of Canada" (a reference to Windy & Carl's home base).

In general, these groups use a combination of traditional instrumentation played in a non-traditional rock manner, mixed in with keyboard-generated sounds, and other effects/instrumentation. With the exception of The Battleship, Ethel, most of these acts have publicly renounced, at one time or another, the bulk of the rock tradition. Most of them dabbled in the various Anglo-pop subcultures (Goth, shoe-gazer, Brit-pop et al, ad nauseum) of the late 20th Century during their formative years. With the exception of Orphx/Antiform, though, these acts only really began to hit their stride during the past two years. When they realized the sugar-teats of Mama Pop were aesthetically and financially bone dry, they waved bye-bye and headed out towards the frontier.

The Battleship, Ethel
Mike MacLean: arp, wind organ, guitar
James Andrews: keys, guitar, insanity
Kevyn Wright: drums, melodica, tapes, packaging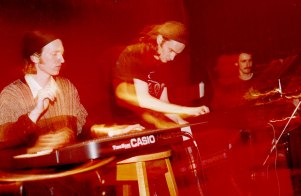 Together for just over a year, TB,E is dedicated to the improvisational ethic, as the core members never rehearse, or "jam", for that matter. Whenever they assemble for a performance, they tend to record and release whatever they come up with, with whomever feels inclined to join them at the time. So far, the trio has recorded three EPs, and four full-length releases. At this rate, within two years, they will surpass the total recorded output of The Beatles.
They have been compared to Hawkwind ("sans bass or Stacia"), however, the group is capable of coming up with transcendent material that approaches the Spacemen 3 at its meditative best. Specifically, the self-titled disc's two pieces, Long Song and (of course..) Longer Song respectively invokes Suicide's Cheree and the S3's Dreamweapon. - And For the Queen is a collection of short (3 - 7 minute) pieces. It is a somewhat atypical release for the group, as its live improv pieces are usually anywhere from 15 to 59 minutes in length. Guests who have appeared on the BS, E's recordings and stage shows include Dave Byers (of the Shangs and early Simply Saucer) and Mark Raymond (see Hunter Eves). Damo Suzuki, the former lead vocalist for the '70s German avant-rock group, Can, has a link to them on his site under the heading "strange". That alone should speak volumes.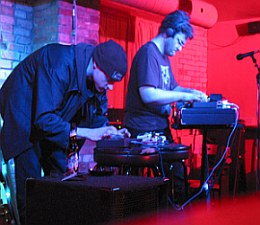 Hypnotech 3
John Merrall aka "The Cosmonaught": synth, guitar, violin
Michael Jackson Pawluk aka "Dream Brother": effects, electronics

Merrall has shoes (i.e "shoegazer") in his musical closet via his work with Heaven Piano Company, and Your Waking Dream (with Christina Sealey of Orphx/Antiform) in the early '90s. At the same time, Pawluk was working with such Vancouver punk combos as the Dunderheads and noise outfits as Rats Eat Children (excellent name!). Neither of those past CV experiences, however, could have prepared you for In Tune With The True Distortion, the duo's debut release under the Hypnotech 3 banner. ITWTTD sounds like The BBC Radiophonic Workshop adapting vintage Tangerine Dream licks for the as-yet unmade Dr. Who: The Movie. The album pulsates, rather than grooves, with swirls of celestial synth-generated and 'treated' guitar sounds, and has fared well on US campus radio, with air-play at Chicago, Cleveland, and Atlanta stations.

Of the two downloadable releases, On Ambient Senses continues the duo's ethereal bent, while Cyborgs Revisited (recorded this past summer at the top of the Jackson Square Shopping Center in downtown Hamilton) has got considerably more motion in its lotion. A second studio CD release is apparently in the works.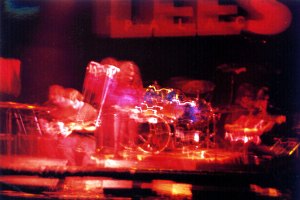 head/phone/over/tone
Dan Winterman: guitars, effects
Calvin Hager: guitars, effects

Back in 1989, the duo started out in the Vampire Sex Chain, a group that sounded like it was spelled. The eyeliner, along with bass, drums, and permanently preening lead vocalists, were ditched in 2000 when the two reconvened under the HPOT banner. The majority of the group's multi-layered sounds are guitar generated , as opposed to keyboard triggered. The end product, however, bears no resemblance to any sort of rock tradition, unless King Crimson's Robert Fripp did an LP of feed-back induced material I don't know about. This past summer, in a notorious "Space-rock shoot-out" gig at a Hamilton watering hole not normally noted for an eclectic booking policy, they cleared the room in record time. It was one of the greatest shows I have ever seen.

Depending on what volume setting you use, the group's two CD releases , Summer Of Love, and Solar Sails (the latter due out in early '03) can provide either ethereal or Excedrin moments. Your move...


Orphx/Antiform
Christine Sealey:
Richard Oddie:
Aron West (left 1994)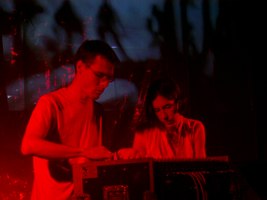 For an outfit so resolutely anti-commercial, Orphx has achieved a fair bit of attention, albeit mainly overseas. Formed in 1993 as an experimental music and art collective, the earliest recordings and performances were, for the most part, improvised, using reel tape machines, synthesizers, film projectors and various effects. Two cassettes of this material came out on the group's own Xcreteria label in 1994.
In 1995, Orphx began to compliment their "power electronics" approach with layered rhythms and processed sounds. Performances began to incorporate visual elements, combining original video montages with 16mm film cut-ups and slide projections. This approach culminated in the release of the 1996 CD, Fragmentation.
At this time, Antiform, a side project, was created to explore more subdued, drone-based atmospheres, performing live with such artists as Mark Spybey (aka Dead Voices On Air) and Robin Storey (aka Rapoon, formerly of Zoviet France). Hopefully, the long out-of-print Bhavana will be reconfigured digitally early in the new year. Fragmentation's success led to a relationship with Germany's Hands Productions, which released the Nullity 10", in 1998, followed by the second Orphx CD, Vita Mediativa (which recently re-surfaced on the local campus charts!) Those recordings combined the basic elements of techno with earlier, experimental textures: deep drones, harsh noise, location recordings, and 'found' sounds. Using the sampled sounds of rocks and soil to create rhythmic structures, the 12'' Surface was the starting point for a multi-media project, the 2001 CD/Video/LP release Living Tissue. That project used sound and video recordings from the Hamilton, Ontario, area to explore the sensory qualities of urban life.
Discography:
As Orphx
As Antiform: Bhavana, 1995 ltd. edition of 100 ( Xcreteria.)
Oddie / Sealey / Spybey CD - Collaboration with Mark Spybey of Dead Voices On Air. (Hushush) 2002.



Hypnotech 3 and HPOT releases can be obtained through mp3.com or www.tonevendor.com.
The Batlleship, Ethel releases are best obtained directly from the source (see Discography)
For Orphx, try http://www.strangefortune.com/index.htm

If you'd like to hear some of the artists featured in this piece, surf in to www.creativeradiocentral.com and the show Underground Parking, hosted by yours truly.

HEY! If you are a Canadian recording artist and you've recorded something interesting, why don't you send it to me c/o Bruce Mowat , #2 -- 461 Dundurn Street South, Hamilton, Ontario, L8P 4M1, Canada. I'll spend at least 2 minutes listening to yer work o' genius, promise.

Next month, we go through what the mailman has brought us...