Canada Calling!
By: B.F. "Mole" Mowat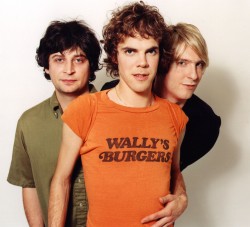 Love 2 Nite, the debut 10-song CD from the Mark Kleiner Power Trio, puts me in a sunny frame of mind. Specifically, it reminds of the buzz I got hearing the Raspberries "Go All The Way" while wheeling around the paths and roads of small-town Southern Ontario on my ten-speed. Years later, when I was a growed up (ha!) hotshot rock writer, I would realize The Raspberries only had two & _ good songs in them en toto. They also get docked for spawning Eric Carmen, who provided Canuck uber alles singer, Celine Dion with her most strident, ouch-that-hurts moment. So screw them, and listen to the MKPT instead. Leader Mark Kleiner wrote nine of the songs on Love 2 Nite, (available on Mint Records) and at least five of 'em are "Hits" in the best possible sense of the word. And the MKPT does a great version of Phil Seymour's Baby It's You, which should elicit squeals of joy from the shores of Mississauga to the stys of old New J Total package, baby: words, tunes, power-point drumming (Kurt Dahle! Take a bow, young fella!), & harmonies that shine (but don't STICK).

For those rock hounds among you wishing a complete history of Mark Kleiner visit: http://www.markkleiner.com/history/history.html.

Here's the skinny version: born in Philadelphia, PA, moved to the Canadian prairie town of Saskatoon at an early age, started playing music there with various outfits (Riverboys, Green Eggs & Ham) and (re)-writing songs (see "Cryptic Slave").

In 1990, Kleiner made the move to Canada's answer to San Francisco: Vancouver, British Columbia, and played in Sister Lovers (yes, after the third "lost" Big Star LP)1990-1996 and then in the glam'ish-rock outfir known as Jungle (1996-99). The son of a Lutheran minister, Kleiner got disaffected with the tawdry, dead-end, jaded music scene & lifestyle in Vancouver, chucked everything and went to back to study at a Saskatoon Bible college at the end of the decade, with the intent of getting into the "family business".

Fortunately for us, he's gracing us again with his God-given talents, living in the equally (if not more so) tawdry, jaded, & smoggy environs of Toronto, Ontario. And, despite a predilection for Philly homeboy & ex-Nazz-ling, Todd Rundgren, none of his songs sound anything like Utopia. Thank God for that!

IMWT: I never got to hear any of the Sister Lovers or Jungle material..did those units "sound like they were spelled".

MK: SISTER LOVERS: cerebral pop train wreck, the best of friends through the worst/best of times. We sounded more like an outtake reel from LIKE FLIES ON SHERBERT, never could get the power-pop thing down, and thank God for that! JUNGLE: bigger, dumber, and a little more underachieving than SL, better live show and worse albums.

IMWT: and speaking of SL: Bell Or Chilton - which one o'these gents do you feel more of an affinity with?

MK: Who's the new bass player for the Box Tops?

IMWT: Well, it's not Jim Dickinson, that's fer shit-sure --Ok, take any two of your fave pieces on L2N and tell us what makes them work for you.

MK: The opener "So Good to See You" is close to me because it is an encapsulation of so much in my life at the time of recording L2N: dealing with relocating to Saskatchewan and estrangement from Vancouver, my 'home' of the previous nine years, and incorporating thoughts from Voltaire that surreptitiously allude to my fixation for the Monkees. All this heavy shit in the breeziest of tunes. My kind of catharsis! Then there's "Birth to Blue": the dialogue of a sperm at the ovarian wall begging for life, the beginning moment for all of us on this side of the sensual divide. I have almost been killed for writing this song (a story too long and sordid for right now); it definitely taps into a very primal place and I pray for the courage to produce more music from out of this general ethereal vicinity.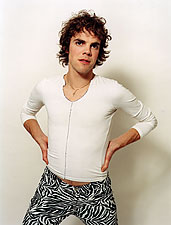 IMWT: All right, take any two of your fave pieces from other people you've liked over the years and tell us what makes THEM work for you.
MK: Christine Fellows has a song on her new album called "Roadkill" that brilliantly captures the savagery underlining relationships, in particular a relationship's demise, with the chilling chorus, "And now just look around there is no sign of us anywhere there never was"--I like to think of it as a line without punctuation; uncertain endings and beginnings, like the thematics of the piece itself. I also have a total hard-on for John Cale's PARIS 1919 album. It is of a piece and stands out of his solo catalogue for its melodies, lyrics, taking the exceedingly odd demeanor of Mr. Cale and wrapping it in a turn-of-the-century grandiosity/fragility.
IMWT: Why are there only 10 songs on L2N? Was it a conscious decision to make the CD an LP in length?
MK: This album is a distillation of all the pop cream that has been churned from my muse-born whimsy over a very long period of time. I have a multitude of songs, but the decision here was to finish when the album was complete. Check out your old Van Halen albums--sub 30 minutes. The CD format allows for way too much music to be crammed on one disc, fine for classical or certain forms of jazz, but counterproductive for folk pop n' roll. As the line goes, if I had more time, I would've made an even SHORTER album.
IMWT: .. but I don't have any old VH Lps (I'm a bit older than that..) apparently, however I share the same birthday as David Lee Roth,(and Thelonious Monk)(AND Tanya Tucker).
MK: Ahhh, Libra! This explains everything, my complicated yet irrepressibly loveable internet communicant.