INTERVIEW: Danny Barnes
Bad Livers, Minor Dings, and Danny Barnes
By: Alex Steininger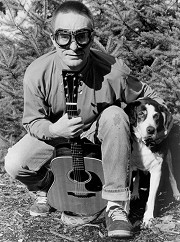 Established as a prolific songwriter, Barnes fronted Austin's infamous Bad Livers, has released four solo records, and manages to release critically acclaimed collections time and time again. How does he do it?

Barnes is the type of songwriter who values lyrical quality, refusing to just throw out words on top of music and call it a song. As much detail as he puts into the lyrics, Barnes' instrumentation and craft at creating the perfect home spun song straight-from-the-heart is also an art.

His latest two releases, both on Cavity Search Records, a collaboration with Hazel's Pete Krebs (Duet for Clarinet and Goat) and a home recorded solo album (Minor Dings) both display the knack for songwriting that runs through Barnes' blood.

IMWT: How did your collaboration with Pete Krebs come about? Were you a fan of Hazel and Golden Delicious?

DANNY: We became acquainted from my incessant driving around in vans, and playing in black boxes.

We had done some shows together and stuff. When I moved to the northwest, I hollered at him to get some advice on the local lay of the land. He hooked me up with cavity search.

The label, Pete, and myself just thought it would be a cool idea, to hole up for a week and create a real special kind of CD. One just created, right there.

IMWT: How would you compare your solo stuff to Bad Liver?

DANNY: I don't really compare my solo stuff to bad livers. That band hasn't worked in a couple of years. I've put out four records, played on a bunch of other people's CD's, worked on another feature film, toured a bunch with my new band, etc. since then.

Talking about Bad Livers to me is like talking about eight-grade homeroom. It's just a memory. Except I wrote all the music.

IMWT: On the same token, how do you see Bad Liver and your solo stuff being complete opposites?

DANNY: Well, I sang all the lead, and wrote all the music and produced/engineered almost all of the records, so both things would have that in common. I guess I'm the pilot in command.

When I composed for that band, I tried to write stuff "for" them, it's easier to just write stuff that I like. The "for me" part is already built in, that way.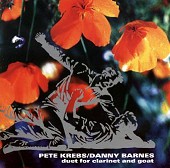 IMWT: Do you like working with the band or collaborating with someone like Pete Krebs, or do you enjoy the solo workings more?
DANNY: I like doing different things. It's cool to have a job that keeps changing. Getting locked into things, really brings down the energy. I'm learning and growing, so new opportunities are met with open arms.
The solo deal is pretty cool, because there's no baggage. It's almost effortless for me to go and play my own music solo. The hard part was always dragging all these other people into the deal.
My new band Thee Old Codgers has a real high degree of musicality, which is cool. If I'm not really playing well, they blow me off the stage. So that keeps me practicing.
As long as the energy is positive, I enjoy it. For example, I just finished this CD with Bill Frisell, on Elektra/Nonesuch. I didn't write any music, and just played where Bill and the producer, Lee Townsend, wanted me to play. I enjoyed that as much as anything I've done. It was very positive, and we all knew we were getting something good on tape. It's a challenge, to do anything well.
IMWT: What can we expect from you in terms of solo material in the future? I'm interested in writing more for orchestra. I'm thinking of doing a CD of all orchestral stuff.
DANNY: I like sampling and cutting and pasting, so there's probably going to be some more of that. My label is hooking me up with this guy, Lang Martine, he's one of Bill Laswell's assistants. We're talking about doing a sample, beat heavy CD.
I would like to do a real solo CD in that it would just be me playing. Without overdubs.
I just got some fan mail from John Paul Jones, it would be cool to pick some banjo with him. I'd like to do a record with Wayne Horvitz' Zony Mash. Chuck Leavall might be a possibility also. He likes my music.
I guess you can expect me to follow my muse, in short.
IMWT: How would you describe your solo material?
DANNY: That's a tough one. I guess it's unique in that I work from my spirit, which is it's own thing. My energy, and experiences are unique. Musically, I'm off on my own asteroid. Whatever I come up with, rest assured I meant what I said...
IMWT: You've been around the music business for awhile. How have things changed, in your opinion? And have they changed for the better or worse?
DANNY: I think the main thing that has changed, is the supply and demand curve. There's waaaaaay too many musicians, so the demand is low. We have to work around that. Also, people's lives are pretty caught up with paying the bills, so they don't go out as much.
We have better, cheaper tools now. You can run a whole office/recording studio, from your PC.
It seems to be easier to get around now, though the traffic is ten times worse than it was in the late eighties, when I started driving around in a van and playing in black boxes.
My wife and I are shopping for an airplane, I just got my license a year ago, that will make getting around much easier, and more fun.
This particular period reminds me of the seventies, right before punk rock happened, when the radio was really sucky, and it forced lots of cool stuff to happen off the radar. I think there's more people doing cool stuff under the radar these days.
I can't say if it's better or worse. It's certainly different. The tools are better.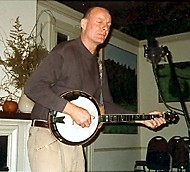 IMWT: You've got a home studio, correct? Any projects other than your own we can count on coming from your studio or any interest on your part to record anyone else?
DANNY: The more I do this, the more I just get into writing music on staff paper. The pencil and the paper. I'm getting out of having a home studio so to speak. Everybody has one. I can just go work over there, and barter out some overdubs for time. In the current time frame, I don't think you should be sinking money into hardware. I'd keep it as profit. Hardware depreciates so fast, why bother?
IMWT: Any plans to tour any time soon?
DANNY: I tour all the time. Just got back from a string of Oregon, and Colorado dates. July takes me to Chicago, D.C., NYC, and all that part of the country, in August I'll be down South. My web site has all the shows on it.
IMWT: How do you write your songs? Do you start with a guitar or banjo part and then write the basic structure, add lyrics, and flush it all out with the rest of the instruments? Or...?
DANNY: It's always different. Though usually, something starts playing in my head, and I write it down real fast. That's the crux of the process.
Then, I spend time with stuff, and connect the dots. It all happens inside my head, and I just jot down the notes.
I have to work quickly, or I forget the music. My wife packs away staff paper in my suitcase whenever I travel.
Music plays in my head, of it's own accord, and I write it down.
IMWT: Lyrically, what goes into a song for you?
DANNY: I like the lyrics to be open enough, where everything isn't all pinned down, and the listener can form her own picture as she listens.
I DO NOT like those lyrics all those hack guys come up with...." I met this girl, and boy she was pretty, and we had sex and I dream about her all the time.." Or, "here's this song that'll take you right where I was standing the night all this bullshit happened."
That's all waaaay too linear and uninteresting for me. I like poetry, where the words are like colors.
IMWT: Anything I left out you'd like to cover?
DANNY: A common theme that runs in a bunch of my stuff, is the idea of a poor person trying to find dignity. And the complex relationship a person has with her, or his Creator. And the paradox of the whole mess.