Pete Krebs/Danny Barnes
Duet for Clarinet and Goat (Cavity Search Records)
By: Alex Steininger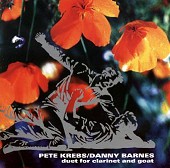 Legendary for their bands, Pete Krebs (of Hazel fame) and Danny Barnes (of Bad Liver) join forces to create one of the best albums of 2001. Duet for Clarinet and Goats is a trip through old time country, folk, and bluegrass. Krebs' trademark silver bullet voice is smooth and poignant, while Barnes' voice is iron clad and rough, offering up a truthful and believable voice of reason that will guide you through the songs and tales that spin you in and weave you around.

Writing their individual songs, having the other help flush them out and bring them to life, Barnes and Krebs take it one step further, covering a song from the other's catalog with their previous band. Barnes chooses Hazel's classic "Jilted," turning the rocker into a jittering folk number.

For Krebs' pick he chooses Bad Livers' "Shot at a Bird, Hit Me A Stump", a hot trotting stomper. Krebs' voice shoots through the quick song (lasting not even a minute and a half), rifling out the words just as fast as his hand picks at his guitar.

A traditional piece of Americana that will hit you right where it matters, in your heart, Krebs and Barnes deliver twelve songs soaked in blue-collar honesty and integrity. Never do you question what they're doing and never do you ignore its importance. This is as real and pure as music gets, so come on over and enjoy. I'll give it an A+.