INTERVIEW: Daniel Johnston
Money. That's What He Wants. ...Daniel Johnston discusses life on the other side of insanity. (Daniel Johnston)
By: Randy Harward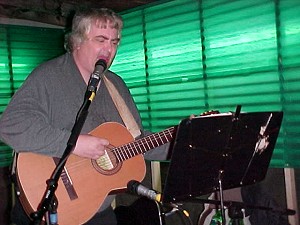 (Originally published in the Salt Lake City Weekly)

Daniel Johnston is one more case for the Lunatic Geniuses in Rock file (see Syd Barrett, Wesley Willis, Brian Wilson). Johnston began his career in 1980, selling cassette copies of bittersweet, melodic tunes he composed on the piano and acoustic guitar around his hometown of Houston, Texas (1983's Hi, How Are You? being his signature recording). He became a songwriter's songwriter, with artists from Sonic Youth to Mary Lou Lord to Built to Spill covering his songs (others, like Kurt Cobain, wore T-shirts bearing Johnston's Captain America/Casper/Jesus/Satan-inspired artwork). In 1994, he released Fun on Atlantic Records, and it seemed he was on a rocket to rock celebrity, only to have his ship rent by severe bipolar disorder. Thankfully, his career...his life...received a pharmaceutical reprieve, and he was able to commence work, releasing three comeback albums in 2001 (The Lucky Sperms: Somewhat Humorous with Jad Fair; Hyperjinx Tricycle with Ron English and "Jack Medicine;" and a proper solo disc, Rejected Unknown), with more on the griddle. In a conversation with City Weekly, the affable singer-songwriter-artist (and one-time resident of Brigham City, Utah) discusses what it's like to be back and he wants out of the deal.

IMWT: How often does someone come up to you and ask, "Hi, how are you?"

Daniel Johnston: [laughs] Not that often, really. The thing about it is, when I was a kid, I used to always say 'Hi, how are you?.' But when I worked at Astroworld in Houston, I found a box in the garbage with a picture of a frog with a balloon that said, "Hi, how are you?" I thought it was hilarious, so I saved it and put it on the cover of the album Hi, How Are You?. But it's mysterious, because one of my favorite songs I had written years before that, "Grievances," says, "And I saw you at the funeral/I said, Hi, how are you? Hello/and I pulled up a coffin and crawled in." It was already there. Isn't that weird?

IMWT: Yeah, but it's great. You even painted a "Hi, how are you?" mural on the University of Texas Record Exchange.

DJ: Yeah, they paid me $90 to do it. I said, "Sure!"

IMWT: Which satisfies you most: art or music?

DJ: Oh, both. When I'm doing a drawing, I get lots of ideas I use them in my songs, even. I do a lot of drawings because that's where I get most of my spending cash and I just always have to have new records, to get something to satisfy my listening pleasure.

IMWT: What do you usually buy?

DJ: I buy mainly Beatles bootlegs and stuff like that. I'm hoping I can go there today. My dad buys my drawings and he re-sells them for quite a bit more and then he puts the money in my savings. I just draw all the time and he buys and I get a lot money [laughs]. It's great. My dad's my best manager I ever had. If I get richer, I'd like to be able to buy more of the real collectible Beatles things. I just need a little more money to be a higher class collector [laughs].

IMWT: Which is a better muse, Captain America or Casper the Friendly Ghost?

DJ: I always draw Captain America and of course, Casper's one of my favorite characters. I even draw them together in their little adventures and stuff [laughs]. I love Jack Kirby as much as the Beatles.

IMWT: Do you get tired of people bringing up your mental illness?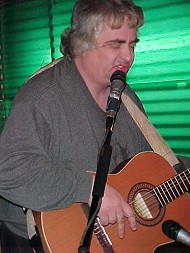 DJ: No, it's alright. But I tell ya, I'm pretty much cheered. They finally found the right medication and I haven't had any serious depression for over five years. I feel great and I've been productive.
IMWT: True. People are calling Rejected/Unknown your big comeback, but you've been busy with other projects--
DJ: I don't know really if Lucky Sperms and Hyperjinx Tricycle have really caught much of a circulation yet. I wish they were, 'cause I think they're pretty good albums. Hyperjinx Tricycle is me and [Soft Skull publisher and tour manager] Don Goede and Ron English, just goofin' around. We got a lot of people to produce it [Bongwater's Kramer, Brady Brock, Kathy Geary] and there were other people [Clem Snide, Brock], that sang some songs, too. Don called him self Jack Medicine.
IMWT: There's a song on there that was meant for a TV show--
DJ: That's right. We did two or three different songs for Greg The Bunny. They used somebody else's theme, but we decided to put it on the album because it's kinda funny [laughs].
IMWT: What else do you have going on?
DJ: The next record is a record I recorded this year with Sparklehorse. It's called Fear Yourself. There's another record in the works called Lost and Found from the Rejected/Unknown sessions.
IMWT: How do you feel about being so revered as a songwriter?
DJ: It's just great. I love it. I love the adulation [laughs].
IMWT: Is there anything you'd change about your career and how it's gone?
DJ: More money [laughs].