SHOW REVIEW: Sumerland/Margot Day/Soy Futura
EJ's - Portland, Oregon - July 30th, 2000
By: Sonya Brown



"Hot" can best describe this summer night show at EJ's in Portland, Oregon. Future Recording Artists "Margot Day", on tour from Santa Barbara California, joins with local favorites "Sumerland" and "Soy Futura" to create a delightful reprieve from the hot summer day.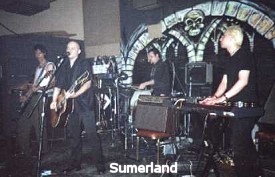 First on stage is Sumerland. Sumerland, in the midst of a 3 week concert schedule, are as magical as ever. They also have some exciting news to share with the EJ's audience... their inclusion on the upcoming "Middle Pillar Presents" compilation! The track "Morpheus RePraise" from their debut EP "And All Is Always Now" will be included on the compilation titled "Butoh", due out sometime in September. According to Sumerland, "this compilation is an exploration of the Japanese Dance of Darkness." Wonderful news for such a deserving and talented band!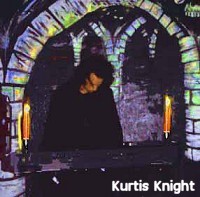 Next on stage is Margot Day. Margot overtakes the stage and gives us a taste of the singer, actress and performer she is. This was not only a wonderful musical experience, but a visual one as well. Margot (vocals and flute) is an exotic gypsy in black lace and sequins (a gown, she tells me, that belonged to her mother). Kurtis Knight, cloaked in black, on a Kurzweil 2000 keyboard (with organic samples and loops) plays beautifully. The percussionist, Joey Z., shirtless and wearing grease-paint, uses strobes to illuminate his drumming; which further helps to create a canvas of sight and sound that ranges from darkly sinister, to tribal, to bright and heavenly. Margot's vocal range paints these contrasts with ease.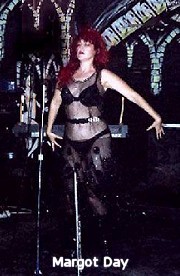 If you are not familiar with Margot Day, Margot was the lead singer for The Plague, an 80's band rooted in the New York underground music scene. Margot has also worked with Adam Yauch (Beastie Boys), Ira Elliot (Nada Surf), Jim Thirwell (NIN), Nick Zedd, R. Kern, London May(Misfits), Nick (Farenhieght 451), and Bones( Disassociates).
The set list for Margot Day included: Wonderlust, HereAfter, Neptune, Money God, When I grow up, BeautifulSoDeadly, Zenatopia, CyberDreams,Burned The Witch, and Sacred Life.
Margot presented me with a copy of their cd "Sacred". Sacred will be most treasured, as it is almost completely sold out. Margot tells me that "Sacred" is so named because of the beauty that surrounds the creation of this cd. She was living in Vermont at the time, in a lovely farm house surrounded by the things that she loves. "Sacred" reflects this beauty right down to the shiny gold wrapping that encases the music... yet another example of the wonderful musical and artistic visual experience that Margot Day creates.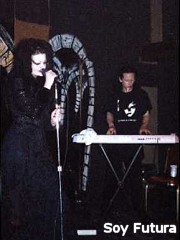 Next, Soy Futura takes the stage. I adore Soy Futura. Nicole and Paul are Portland legends, and their shows always delight and amuse. Nicole sings serious and somber, yet she often has the crowd laughing between songs with her witty comments. Among the things I love most about Nicole is her biting humour that reminds me not to take myself too seriously. ****** Soy Futura concludes this delightful evening.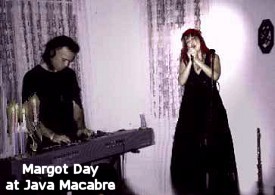 Now that Margot and Kurtis have returned to their home in Santa Barbara (where they are presently working on their next cd), I ask Kurtis Knight what he thinks of Portland. He replies, "Great underground scene brewing!" I do hope this means they will come back to Portland again very soon... and speaking of "brewing"! Margot and Kurtis (as a duo) performed a delightful bonus show at Portland's Java Macabre on July 28th. This quaint downtown coffee shop is the perfect backdrop to the softer side of Margot Day. Margot (flute and vocals), and Kurtis (keys) give us a taste of their diversity at Java Macabre with a more subdued performance than the powerful EJ's show... and while it is still a bit too warm for coffee, both of Margot Day's Portland performances are quite refreshing!