SHOW REVIEW: Strung Out / Snapcase / Rise Against / theLine
RED'S - August 10, 2002 (West Edmonton Mall, Edmonton, Alberta)
By: Erik Holmlund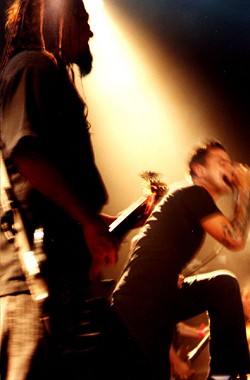 Red's is a bowling alley/pool hall/retro restaurant/concert hall smack dab in the middle of the world's second largest mall. Not the normal venue for a line-up like this one and although I had seen SNFU play here a couple years ago and The Misfits are scheduled to appear in the next month or so, it typically hosts R&B acts, tribute bands and washed up 70s and 80s acts. It is a decent place to see a show and normally has a good sound system, but more on that later.

I missed theLine, so I can't really say much about them except they had more merchandise than any other fourth band on a four act bill I'd ever seen before. More than any other band on the bill, I reckon. But I guess that's what you get when you've signed to a major.

Rise Against is one of the newer bands on Fat Wreck Chords and rose from the ashes of 88 Fingers Louie. I have to admit that I'm not really familiar with Rise Against's music besides a Fat sampler here and a free download there. But after seeing their live show, their new album is on my list of must-buys. Vocalist Tim Mcilrath's voice battles from hardcore screaming to campfire sing along cheery. The highlight of the set were those songs that both Mcilrath picked up a guitar and formed a more complex and layered sound. The band had great energy and should be headlining their own tour after they release their new album.

Buffalo's Snapcase followed Rise Against and although I had hug expectations for them, they actually surpassed them. The energy of the entire band and their extremely tight playing was beyond most other bands I have seen, lo these many years. There is not really much to say except that I went to the show with two people who are not into hardcore or even punk rock, and they both loved Snapcase. As good as they are on CD they are better live and they played something from entire catalogue. The only downside was that they only played for 30 minutes or so. Otherwise, fantastic.

After about 20 minutes of A-Ha, Big Country and Mr. Mister playing over the sound system (we're in a mall remember), Strung Out came out to hundreds of chanting fans. In the past I've seen them play twice. Once headlining with Diesel Boy and once opening for Bad Religion. Both times they were great. Tight, heavy, melodic. Tonight was a different story. It wasn't so much the band as it was the sound itself. It was a horrible muddled mix. The only thing you could hear clearly was Jordan's bass drum. Jason's vocals were non-existent. A real shame when the headliner has the worst sound, by far. Even though I know almost all of their songs, I had trouble picking out about a third of them live. On the plus side, the band whipped up the crowd by giving it their all and watching Jordan, one of punk's best drummers, is always a treat. A good effort ruined by bad sound.