FEATURE: Soy Futura
A dark electronica sound sporting operatic-like vocals (Soy Futura)
By: Sonya Brown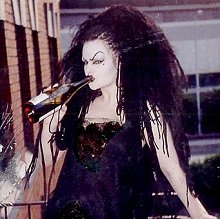 Looking for something a little different? Soy Futura is definitely a show not to miss.

I first saw Soy Futura at the Paris Theatre, in Portland, Oregon, where they were performing with Tri State Killing Spree, Sumerland, and Kristy Thirsk. When Nicole took the stage & lit her cigarette from the ornate iron candelabra/sheet-music stand, and Paul appeared in his black gown, I knew this was going to be something unusual. I wasn't disappointed. Soy Futura is a gothic-electronic duo that is comprised of Nicole Nipper vocals/keyboards; and Paul Oliver, keyboards, guitar, vocals; and while Nicole is a feisty over-the-edge entertainer; Paul seems concentrated and dedicated. They compliment each other well.

One thing I noticed about Soy Futura, was how they incorporate audience participation into their set, you can't help but be drawn into the festivities. My favorite moment came when they were doing some disc changes, and Nicole broke into a kareoke version of Jimmy Buffett's "Margaritaville". Certainly not something I was prepared to hear at a gothic event such as this. Nicole had a bevy of dancers join her on-stage as she belted out "Margaritaville", often times even forgetting the lyrics and substituting her own, and it was incredible! In fact, I noticed that several of the other bands came out of their dark corners and hiding places to see just what the hell was going on. Never have I seen so many of the black-clad dancing about and joining in on the fun. I asked Nicole about this phenomenon and she replied, "we had only one keyboard, 'cuz we're trailer trash, so we had to do some disc changes. Since the memory on my keyboard isn't a million hours, we couldn't just bore everyone into a coma, so we would sing some funky kareoke tunes and drag people from the audience and make them sing or bust-a-move. It was great fun and everyone enjoyed it. We're not about being some stuck-up halloween left-overs band, our stage show is one big happy party where everyone's invited". Some of the songs they performed live were "Universal9", "Secrets", "The Infinite Time Traveller", "Havoc", "Fear", and "Power Loss".
I also asked Nicole to describe their sound, and she tells me that "Soy Futura is a dark electronica sound sporting operatic-like vocals. Soy Futura is a project dedicated to the late KLAUS NOMI as well as the somewhat forgotten new romantic era".
While there is no website for Soy Futura as of yet, they are in the process of putting one together; as well as working on their second cd. Their first cd "universal 9" is scheduled to be released March 18 through Obsidian Inc. Nicole also has a side project, DEAD ERROR, which will be released in the fall. Nicole feels it's more nightmare-ish, "a twisted sound sculpture".
Nicole adds, "Anyone interested in our work or who wants to kick back and do a little kareoke can contact us ([email protected])", and she wishes to add a note of thanks to her old producer Kieth Hevner . "Kieth taught me a lot and my songs would probably sound like shit if he did not teach me how to work my damn keyboard in the beginning."
Other future projects to look for from Soy Futura include an infomercial for their cd, with a bonus horror film of Nicole's that will be added to the television party. They want a live studio audience during the informercial. After witnessing their live performance, I know this will be quite the party, and I'm definitely looking forward to their next show.