INTERVIEW: Manda and the Marbles
Punk rock's princess goes pop - but still keeps the rawk edge
By: Alex Steininger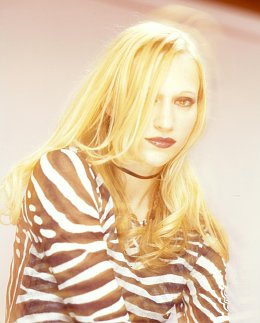 Manda, front woman for the Columbus, Ohio-based quartet Manda and the Marbles, quickly started building a fan base with the release of their Rock's Not Dead, released on local indie Break-Up Records. Recorded as a trio (the band - Manda (vocals/bass), Joe A. Damage (guitar) and Mark Slak (drums) -- wouldn't add keyboardist Elias Dubok until their third full-length), the band released it in 1999 and quickly followed up with Seduction in 2001 on the same label.

That year, showcasing for labels at CMJ, punk label Go-Kart Records caught wind of the band and re-released Seduction with four more tracks the following year, releasing the record as More Seduction.

Earning more attention via the press and a larger fan base, things seemed to be going well for Manda and the Marbles.

That is, until they began not seeing eye-to-eye with Go-Kart Records.

"We had our differences with Go-Kart on how things should go with the band. They moved slower than we wanted them to," comments Manda on their mutual partying of ways with the label.

Ready to record a new record, Go-Kart wanted them to tour and support More Seduction, but the band wanted to get something new and fresh out to promote.

"A lot of the material was already written, and we were anxious to get it out, so instead of waiting on them we decided to just go for it and put out another record," Manda says of the record that would become Angles with Dirty Faces.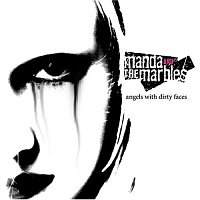 Adding a keyboard player to the trio, now making them a quartet, Manda's vision of her songs could finally be realized live -- and more could be done in the studio.
"We had keys on other records, but we never had them as prominent as it is on this record," she tells me. "Some people have said we should add another guitar player, but I didn't want it to be all guitars. So we decided to add a keyboard player. I wanted it to be more poppy".
"Also," she continues, "adding another keyboard player makes our live show sound more like the record, more polished. When it was just the three of us, the sound was a lot more raw."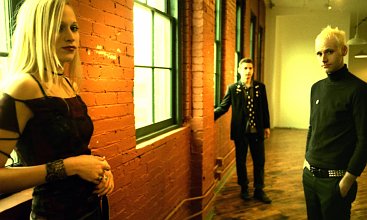 Looking to become more poppy, less pop-punk and more pop-new-wave, Manda and the band were excited about the creative choices having a full-time keyboard player in the band would allow them. So much so that the band tried a lot of different stuff on their third full-length, Angles with Dirty Faces.
"We did a lot of different things," she says of the recording process. "On this new record, 'Seventeen' is a slower song that we normally would not have put on a record. Now we just don't care about what people think is different and put on the songs that we really like."
With the new record done and ready to shop around, the band, anxious to get something out, asked their friends at local label Sick House Records to release the record. Soon after the album's release, their manager started up a label, Adison Records, and the record was re-released with wider distribution.
"The first version of Angels With Dirty Faces was released on Sick House Records. But, it was recently re-released on Adison Records," Manda tells me. "We put out an early release on Sick House Records. They're friends of ours, we knew them, and they wanted to do it, so we put out the new one with them. Then our manager started a label, so it got re-released. Sick House was cool with it all. We're good friends."
With the record now available in record stores, the band hopes to tour soon to support it.
"We're going to tour in late spring and summer, when it is easier to get away from work. And we won't have to deal with the ice and snow," she informs me.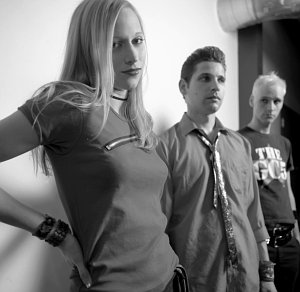 Manda's day job is a paralegal, something that she contributes to her ability to help book the band.
"Our drummer, Mark and I do all the booking for the band. My day job is a paralegal, so maybe it's because I do it all day at my day job, but I don't mind negotiating. Why pay a booking agent when you can do it yourself?"
Thus goes the fiercely independent mindset of Manda and the Marbles. Look for the record in stores near you and check out the mesmerizing pop-laden new-wave-punk offering of Angles with Dirty Faces.