INTERVIEW: Manic Hispanic
Punk Band
By: Liz Ortega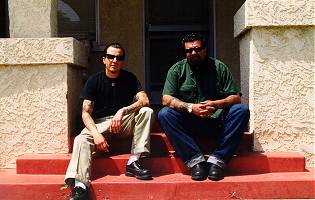 Liz: So, tell me about the band. How did you guys get started?

MR: Well, basically, Gabby from the Cadillac Tramps and Steve Soto from 22 Jacks wanted to put together a do-wop band doing covers, but we were going to do punk covers do-wop style. So they got Chino and Mo Grease from the Grabbers, Oso from the Cadillac Tramps, me and Sonny.

Liz: How was the transition from do-wop style to punk?

MR: Well, we started playing the original punk songs at rehearsals, throwing in our own lyrics. We pretty much just made them funny. Foe us, it was a lot of slang and a lot of " cholo " slang. We kind of started throwing it into the songs. So, we hadn't really started rehearsing what we were there to do and that was to do these punkk rock songs in a do-wop 50's style way. And it turned into where we liked what we were doing with the punk rock thing and just changing it into Spanglish.

Liz: So, how quickly did you guys know that Manic Hispanic was going to be a real band?

MR: We actually got together for our own amusement. We didn't really plan on playing more than a couple of shows. And that was what, four years ago?

It: Steve and I use to tour manage the Caduca Tramps and while on tour, we use to fool around and practice. We talked about it for years, you know, "We should do this, man!"

Liz: Where was your first show?

MR: The very first show we did was at the Doll Hut. Then our second show was at Cal State Fullerton in the pub. Our third show was at the Club Mesa, that's when Sonny came in.

Tio: Yeah, that was my first show!

MR: We asked Sonny to come up and sing "God Save the Queen" in Spanish. He did the whole song in Spanish. He never wanted to get off the stage after.

Tio: (laughter)

MR: That was four years ago and we're still trying to get rid of him!

Liz: There are three singers, right?

MR: Right, there's El Jefe, Tio, and Mad Ralphy.

Liz: Do you all share vocals or do you just throw it all in?

Tio: We all share and we throw in.

MR: We all sing on all the songs. Gabby sings lead on half the set. I sing half the set and Sonny sings backups on everybody's set and lead on a couple of songs.

Liz: Do you guys have any originals or are you just a cover band?

MR: No, actually we have done a couple originals, but we never put them on record because there's no real arrangement behind them. They're all just jams that we go in and we start playing in rehearsal. Our rehearsals are so dysfunctional. We're lucky if we actually rehearse any Manic songs.

Liz: What's the purpose of being in a band then?

MR: The whole purpose for Manic was to not put a whole lot of effort into this band. When we got this band together, it was right at the Tramp's peak. Steve Soto was in a band called Joyride and the Grabbers had just put a record out...

Tio: We were just fooling around.

MR: So we were only doing it so that everyone would have a release. And for me and Sonny, who have never been in a band before, it was just to have fun. I managed bands for years and I tour manage and do sound but I would never want to do this for a living, ever!

Liz: Now that the Cadillac Tramps have reunited, where does Manic stand?

Tio: We'll just do what we've always done. We just play when it's convenient. In fact, there have been show where I have not been there. Mad Ralphy hasn't been there a couple of times. Steve Soto hasn't been there a couple of times.

MR: Gabby has always been there, but everybody has missed a show or shows and they've been replaced, except for Gabby.

Liz: Now, what does that say about Gabby?

Tio: He's the lead singer! He's the star!

MR: It doesn't really matter who's up on stage, as long as Gabby is up there, people will still be going to Manic shows.

Tio: And Manic's a fun band. We all have a lot of fun.

Liz: Most of your fans are under 21. Why does the band rarely play all ages show?

MR: You know, that's really been a bummer. Sonny and I have voiced our opinions on playing all-ages shows and we rarely or never, well, we've done a couple of Chili Cook Offs and skateboard parties...

Liz: That's important because you do have younger kids listening to your music and it sucks when they can't go to your shows.

MR: Oh yeah, but you know, the songs that we do are such old punk songs that the young kids don't know who those bands are. Well, some of them do, but most of our crowd is an older punk crowd. The songs we're doing are from the early eighties.

Liz: But you have fans of all ages, why not please both?

MR: But you're right. There's more people that know about this band that I've ever known. We would play in Texas on tour and our c.ds would be playing in a juke box.

Tio: Yeah, New York, too.

MR: Yeah, that blew me away. I didn't think our record was distributed that far.

Tio: A couple of years ago in San Pedro, I went to this bar just to hang out. It was a cop bar and they had our c.d in the cop bar! I was crackin' up!

MR: That's pretty funny.

Liz: How was your first album, " The Menudo Incident " received?

MR: That record sold like 5,000 copies the first six months it was out. It was a spoof on the "Spaghetti Incident" by Guns 'n Roses.

Tio: I heard that in the Southwest, a lot of people bought our CD?

MR: I could see that. There's a lot of hard-core punk bands and speed metal bands that listen to the same type of music. The speed metal listen to the punk music and vice versa. They go to each others shows. So when bands tour through the Southwest, those shows are packed. Those are areas that are starving for music like New Mexico, San Antonio, El Paso, anything not Dallas.

Liz: What about up north?

MR: I think north wise, we wouldn't do that great, but then again, the Cadillac Tramps were so much more popular in Canada. I think we can go to Canada and do really well.

Tio: We were suppose to do a tour up north.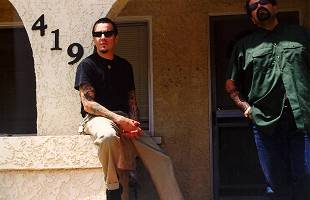 MR: We had a complete tour booked. It was like three weeks long. It took us all the way up into Canada. The band made it as far as San Francisco and broke up. Came back home and got back together to do one more show and we started playing together together again. The first road trip this band ever took and it broke up. It was the first show! There was like twenty shows booked after that.
Tio: Yeah, we broke up at Denny's at four in the morning! (Laughs)
MR: So, we've already realized that there's no way this band could ever tour because we've tried to do it after being together for like three years. There's just no way. So, we're just going to stick to every once in a while play shows and every once in a while put out records.
Tio: But when everything goes well, it's so much fun. We all have a blast.
Liz: So, when's the new record coming out?
MR: It was supposed to come out on Dr. Dream, but the record company was merged or bought out by Mercury and when this whole major label take over happend, all the subsidiary labels had to close down. Dr. Dream was one of them. Our record was suppose to come out a year ago.
Tio: It's better than the first one.
MR: I mixed the record a year ago and I recorded it over a year ago and it still hasn't come out yet.
Liz: What bands did you guys cover on this album?
MR: We do an Offspring song called "Keep 'em Immigrated" and then we do a Rancid song called "Rudie Cholo."
Liz: Why did you choose those songs?
MR: The reason we do those two songs are because they were the hit songs when we recorded the record. So, we wanted to stay on top of things. Well, now they've got other records and they have singles off of that, so...
Liz: You're kind of late, guy!
MR: Yeah, I know. It's going to come out. We just don't know who's going to put it out right now.
Liz: Your record is basically up in the air right now.
Tio: It's more below the ground!
MR: Yeah, I know! I guess we have a couple of offers from people to put out this album and they're guys form bands that we do covers of. We're just trying to see what the better deal is. We want to see how well everything is going to be taken care of and who really wants to put the record out.
Liz: What can we expect to get out of this new record?
MR: There's a lot of funny stuff on this record. If anybody gets anything out of it, it'll have to be the old Manic Hispanic fans, the old Cadillac Tramps fans, which is the old punk crowd. They're getting a lot of humor out of it. This record is by far the more funnier than the last record because we spent a little more time on the lyrics. We made them funnier and made more sense out of them instead of just throwing in lyrics that don't fit, like the last album.
Tio: I think the kids will like it, too.
Liz: You're all from Orange County, right?
Tio: No, originally, I'm from San Pedro. I moved to Long Beach about ten years ago.
MR: I'm fro m Fullerton, now I live in Long Beach. Gabby's from Westminister. Steve Soto, Warren, and Eddie are from Fullerton. Maurice is from Huntington Beach, and Rubin is from Santa Ana. I was born in East LA and some of the other guys are also from LA, except for Gabby. I think he's from fuckin Tijuana!!
Liz: All right! Getting back to the album, what's it called?
MR: It's called "The Recline of Mexican Civilization." The reason we chose to do that is because the theme on this record is a spoof of the "Decline of Western Civilization." It was movie that came out in the 80s about urban punk rock. So, when we decided to do this record, we kind of went back to our roots from the "Guns 'n Roses " spoof to the "Decline..." spoof. We thought it would be funny, man. We also decided, because we're such a laid back band and everything is so effortless and we're so lazy, to call it "The Recline of Mexican Civilization " instead of "The Decline of Mexican Civilization ." I think it just fit us a little bit better.
Liz: Are we all Mexican here?
Tio: Absolutely!
MR: It's a requirement! You gotta be at least half. If you're going to be a full-time player, you gotta be Mexican. We could give a shit how good you are, but if you're part Mexican or Mexican, you're in!
Liz: So, what are my chances?
Tio: SLIM!
Liz: Don't get dropped, Sonny!
Liz: Are any of you gangsters?
MR: I'd like to say that it's a front, but it's not. We all grew up in the barrio, with the exception of two guys. We all grew up in that culture, but not all of us lived the life, you know. We've looked the way we've looked for years when we were growing up. We're not cholos or gangsters, but we come from that heritage and we're proud of it.
Tio: I'm proud to be Mexican!
Liz: Right on!
MR: The people that show up to our shows that do start a lot of trouble, they're not gonna get any praise form us. Most of the time, we physically kick them out of the club. We're not down with people coming and starting shit at our shows. I'll be honest with you, any one of our shows has a chance for something to go wrong. We attract the tough guys. And none of us in the band are tough guys because we don't need to be tough guys. We've got nothing to prove. We want people to come to our shows and pogo and slam and just have a good time.
Tio: But you know, we're a peaceful band and if we can avoid fights, we will. It's like "I don't want to fight, but if you want to, I guess we're gonna."
Liz: For those who have never seen you live, what can they expect?
Tio: Expect to have a lot of fun.
MR: Expect a really long set. For some reason, Gabby feels the need to draw our set out. Our set is usually between 17 to 20 songs. When Gabby gets on stage, he never wants to get off. You can expect a lot of laughs. We poke fun at each other on stage. We poke fun at the people in the crowd. So if you're up in front at a Manic show, you can count on being the butt of somebody's joke.
Tio: The Cinco de Mayo show is going to be a good show, and everyone will be all sweaty. It'll be a great show.
Liz: What do you think about any local bands?
Tio: I like the Humpers from Long Beach. They're a great band and I hope they get back together.
MR: I'd have to say the U.S Bombs are my favorite local band.
Liz: I LOVE THE BOMBS! Duane is crazy!
Tio: He's beyond crazy! He's a good guy and they're a great band.
Liz: Well, fellas, it's been a pleasure. Any parting words?
Tio: Vaya con dios!
MR: When our record comes out, go out and buy it!