INTERVIEW: Man of the Year
Indie Pop On Buffy? (Man of the Year)
By: Alex Steininger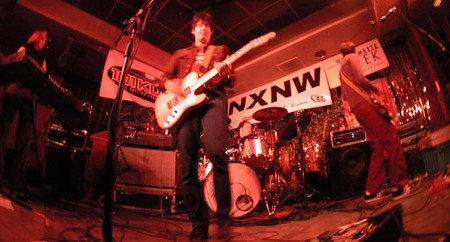 Sarah Michelle Geller. Buffy The Vampire Slayer. These are both internationally recognized names that people are fanatical about. So, for an indie band to be able to be associated with that kind of hype, it's a chance Portland, Oregon's Man of the Year couldn't pass up. Recently returning from the filming of Buffy's Halloween episode, MOTY got the chance to play the band at a party on the show, while one of their songs plays for nearly two minutes in the background.

"A copy of our first demo circulated into the hands of the Buffy people a couple of years ago and they used "Silver Dollar" [off of their debut CD, "The Future Is Not Now"] in an episode," states Kelly, the band's bassist and backing vocalist, on how Buffy execs heard about them.

He continues, "Since then they have stayed fans of the band. When our record came out we made sure they got copies. When the script called for a band they thought about us."

The Halloween episode aired October 30th.

"It was sort of surreal," Kelly says of the experience. "Everything was made up to look real but was not real. We're playing in a club that feels real but isn't, eating lunch with an army of demons wearing civilian clothes-- It was cool to see how things work in such a big production."

The big, inevitable question on any Buffy fans' mind - did they get to meet Sarah Michelle Geller? - is soon answered by the band.

"Sarah Michelle Geller was off on location. We worked with Amber Benson (Tara) and Allison (Willow)."

For a lot of people, Buffy will be their first experience to Man of the Year. Especially if they pay attention to the credits or visit the Buffy webpage on UPN's site. Both will mention Man of the Year and their website, manoftheyear.org.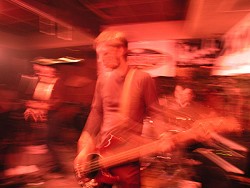 "Buffy has such a huge cult fanbase, especially internationally, which will help since our record was only released in the US," states Kelly on the show's potential exposure for the band. "There is so much music out there that a lot of good music can be passed up. If you can get your name out there so that people recognize it they are more likely to check it out when they are searching for new music."
For those lucky enough to familiarize themselves with Man of the Year, or for fans who were shocked to see a band they like on the program, the band is happy to report that they're working on some new material and hope to have another album out by Spring 2002.
In the interim, the band has been touring the West Coast, hoping to build up their name and exposure before their sophomore effort is released.