INTERVIEW: INTERVIEW: Electric Frankenstein
How To Make A Monster... With Mass Market Potential!
By: "Vinnie Apicella"



Electric Frankenstein has been wreaking havoc in the underground scene for over a decade now. Many of today's popular artists, in the mainstream and below, owe a degree of their success to EF -- as many have long referred to them. And the band itself is not shy to reveal their many influences brought to life in their own music -- The Stooges, Dead Boys, Misfits, AC/DC, and so on. Having released countless albums, EPs, comps, covers and split CDs, EF is amongst the working class elite when it comes to production, promotion, and packaging. They have long waved the banner for the Indie scene in their attempt to protect musicians' interests, and the faith of their extensive fanbase.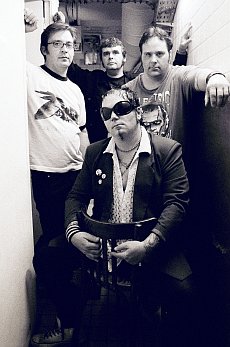 Band founder, and spokesman, Sal Canzonieri is the embodiment of this work ethic. Where at the onset, Electric Frankenstein could be included as little more than another Punk Rock act with three chord prowess, a gimmicky image and cartoonish covers, through perseverance and continuous dues paying, they have transcended beyond the bounds of the music scene, and the Punk scene specifically, to become a sought-after institution of iconic proportions.
With Canzonieri at the helm, handling multiple duties as EF songwriter, guitarist, producer, manager, and promoter, they have developed into a high profile machine of mass market appeal that has seen the advent of vast forms of merchandising that's slowly approaching mainstream-like levels previously unheard of for Punk Rock bands with no Major label support.
As EF prepares to unleash their 13th album next spring, a number of surprises are in store for their many fans, not to mention the music industry as a whole. While the sharp-minded and well spoken Canzonieri readies the band for what will no doubt be the biggest year in their already storied, if still infamous career, he is currently at work administering a recently conceived plan that will truly revolutionize the music industry while likely breaking the barriers of non-traditional forms of music media coverage!
Vinnie Apicella (for In Music We Trust): Electric Frankenstein's very well known in the Punk/Underground community. You've been around 13 years and released over 100 records when many bands would be happy if they made it to one! What is responsible for EF's longevity in the scene?
Sal Canzonieri (of Electric Frankenstein): I think there are a number of factors: One -- that we're actually good and write "real" songs that you can remember. Two -- that we pack a lot of emotion into the songs and people can connect to that. Three -- the songs aren't only for one small segment of the music population, they are for music fans from 13 to 63 male and female! Four -- that we developed our own distinct sound and style, which we call "High Energy Punk Rock & Roll" that a lot of other bands started emulating soon after. Five -- we really care about our fans and stay in contact with them and do special things for them. Six -- that we made extensive use of the internet very early on, from the beginning of the internet's existence. Seven -- we released loads of MP3s for free on the internet by joining MP3.com and everything like that right away. Eight -- we did a tremendous amount of things to earn the respect of many people, such as boost musicians' rights, protect Indie labels and bands from major label anti-trust actions, give business advice to new bands, issue the "A Fistful of Rock & Roll" 13-volume compilation series. And Nine -- that we made collecting our records fun by having amazing and distinct artwork on every one of our releases!
IMWT: And it probably doesn't hurt that you model yourselves after bands like the Stooges, MC5, NY Dolls, Damned, Cheap Trick, AC/DC, etc. and other proven winners in both influence and sales figures over the years.
Sal: Yes, the whole point of EF was to merge together the best of all Rock 'n Roll styles, and thus our influences from these bands into something new and vibrant. Dead Boys meet AC/DC or Sex Pistols meet Led Zeppelin; we worked hard to listen to our songs and make sure that they were at a level comparable to our roots and that fans of these bands would love as well. As a fan of this style of music, if I felt I would buy the song myself, then the song was recorded. If not, out it went.
IMWT: I understand that EF was one of the top most featured bands in the music press -- number 2 out of the top 500! Is that right? And this is out of 500 of the top Rock bands in the world?
Sal: Yeah, EF have been in the top 7 since we started, as tracked every year or so by Zine Guide. In the 2003 issue, we were listed as Number 2, and they said we would have been Number 1 but they didn't have time to collect all the data.
The band Propaghandi was listed as Number 1 (they had only 2 or 3 more articles than us), due to the enormous amount of articles that were featured in Anarchist, and other 'zines for them. Both our bands had thousands of articles and interviews done on them. Number 500 was actually Cheap Trick! We beat out tons of famous bands.
IMWT: Discuss a little about the EF website and how it complements your band and its larger than life image.
Sal: Our website gets over 1.5 million visitors a year and is ranked by Alexas as the 5,000th most popular website on the whole internet; which is a lot considering that there are millions of sites out there and hundreds of thousands of sites for music! Most people come to the site, of course, to get free samples of our music. This accessibility has resulted in greater exposure for our songs which have been used on many film soundtracks, TV shows, videogames, and so on. We also get a lot of great companies that sponsor our website and products; companies that our fans would be interested in already -- Lucky 13, Sourpuss, Toy Tokyo, Wicked Cool Stuff, Cryptoys, Something Weird, Rue Morgue, etc.
IMWT: Besides the popularity of the band name your name is pretty high profile as well. You serve not only as a musician, but business manager, marketer, promoter. How can you manage all of these things and still keep the band itself, or its music, a priority?
Sal: For myself, I do have a high profile for many things besides just playing guitar in EF. I am our business manager, which means I talk to many companies that contact me to work with our songs, and who want to make EF products like toys, figures, games, etc. I also do all the marketing and promotion work for EF and I do consulting on marketing and promotion for many other bands. I am also a record producer. Right now I am working on new albums by The Cheats from Pittsburgh, and Ironhead from Virginia Beach. I also do scouting and business consulting for many Indie labels all over the world. And, finally, I served as an investigator for the Attorney Generals Office and the Cooperative Union of State Attorney Generals in anti-trust activities committed by the music business. How do I manage it all? I don't waste time and I do everything as it is needed. So I prioritize my time very well.
IMWT: Now you're preparing to release a new Electric Frankenstein record early next year, and you're also involved in various other band-related projects like the recent EF book through Dark Horse Publishing. And you're also involved with an EF clothing line and other merchandise!
Sal: Well, the book "Electric Frankenstein!" published by Dark Horse earlier this year, (who are best known for Hell Boy, and tons of best selling comic books), features not only our history in an essay form that explains how and why EF developed, but also all the artwork ever featured on our records and posters by a who's who of modern artists like Kozik, Coop, Forbes, Hess, and on down the line. This actually ties us into a bigger popular culture-- making EF itself an icon!
I have been doing art gallery shows, book signings at stores, and interviews, which have been fun to do since I didn't have to play, but just show up and enjoy meeting and talking to our fans and fans of Rock poster art. The first art gallery show was done on April 13th at CBGB's, where everything got its start way back when.
Also, EF has, in our 13th year, our 13th EP coming out this Halloween called "Super Kool" and our 13th album coming out in the spring, which we are in the middle of recording and soon to be mixing. Plus we have been releasing lots of split singles all over the world because I want people to find out about some cool new bands and doing split singles is the best way to do that; and in cooperation with bands from other countries, they're also helping their fans learn about EF in return.
IMWT: Back to the new album, you mentioned it's still in pre-production and planned for release in the spring of '05. What can you reveal about it at this point?
Sal: The 13th EF LP is called "Burn Bright, Burn Fast" and will be out in the spring on TKO Records. It has over a dozen new songs and a few cool covers: "Talk, Talk" (by 60s band the Music Machine), "Moving Targets" (by 70s band Flo & Eddie) and "Candy-O" (by 80s band The Cars). The title track, "Burn Bright, Burn Fast!" has been getting an amazing response live for the past year; people scream each time we play that one. There are lots of great ones that people will really like that we haven't played live yet.
IMWT: Speaking of TKO Records and covers, they released the "We Will Bury You" two-disc set of covers last year. There were, of course, a lot of the expected underground classics like The Misfits stuff and Dead Boys, but also quite a few surprises -- Maiden, Motorhead, etc., great stuff. So how many copies of the EF catalog have been sold?
Sal: So far, since we have so many releases on over 40 labels from all over the world, the sales total about half a million; all sold by word of mouth.
IMWT: What are the projections for the new release?
Sal: The new release, which is going to have a contest voucher hidden inside it, is going to have tons more sales. Pre-orders are already at 100,000 copies! The contest is going to be like the "Willy Wonka" of Punk!
The new record itself is pivotal for EF because I consider it as the final coming together of all the ideas of what EF is about musically. The music on this record is very strong and totally original in the fact that we have fully merged Punk Rock and Hard Rock together in a seamless way that creates a whole new sound of High Energy Rock music. This record, while still holding true to our roots, sounds like no other band; and yet it is like how bands such as The Ramones, AC/DC, Zeppelin, Black Sabbath, The Stooges, and so on, have done their music, in that they have a strong signature sound that can't be copied without being an obvious rip-off.
I think it is the best EF record yet because we haven't just made a new batch of songs, but rather a whole new sound and style of Rock music! Also, to top it all off, all of these songs were actually pulled from the best songs from each year's recording session! Instead of releasing them, we had the guts to save them for later! We took those songs and reworked them as needed to develop them into where we wanted to go in our sound now. Not many bands would leave the best songs from each of their recording sessions for later use!
IMWT: Amazingly enough, with all you're involved in doing for Electric Frankenstein's day-to-day activities, your name's equally synonymous with the "Fistful of Rock & Roll" complications that have helped open the door for many new up and coming acts-- as well as more than a few well established veterans like Supersuckers, DGeneration, Fu Manchu, Antiseen, Turbonegro, Hellacopters, Sonny Vincent--
Sal: Yes, every year I have been releasing comps of what I consider the best or most interesting High Energy Punk Rock & Roll bands around, or bands that are allied to that sound via their Punk/Hard Rock roots -- like Nebula, Fu Manchu, etc.
So far 12 volumes have been released and the 13th one, a double album grand finale, is being finished right now. Altogether they feature over 350 of the world's coolest bands and songs! They are also great party mix records. Since I was a DJ in the early 80s for several years, I kept that in mind when sequencing the song/band order on each. I spend lots of time working out which band's songs would compliment the songs around them so as not to compete with another band's sound. Each song compliments the other very well.

IMWT: Behind the scenes of the upcoming EF record, considering the appeal of EF as a band, and a growing institution considering its widespread marketability, you've come up with an innovative new way for direct marketing and promoting that's already garnering some non-traditional music media attention. It involves placing ad space on the enhanced portion of the actual CD. How did you conceive of this?
Sal: It is a special record with two things that have never been done before in Rock Music in association with it! The first is that each record will have a voucher in it that fans can fill out and send to me that will go into a drawing for tons of prizes, including a $13,000 grand prize! The second is that we are the first band to be using the Indie film business model to produce their record instead of the traditional music business model.
On the enhanced part of the CD, along with cool EF art and videogame, we are having interactive logos that connect to the websites of our sponsors that we are recommending our fans check out. It is a great direct marketing tool for our sponsors to reach 100s of thousands of people all over the world for as long as their website is up! The link is good no matter how many times a record might be resold. We have been charging $1,000 for each space on the interactive portion of the CD, and with what we have made so far, our sponsors have actually helped us to pay for the recording of our new album and all our expenses! That means that we didn't need any record label to pay for our recording and to pay any advances, so that way we OWN the rights to this master and all our songs! That allowed EF to make a deal for manufacturing and distribution with really great labels that we can trust rather than whoever we are stuck with that would have paid for the record to be made. We are free to work with real Indie labels of character and integrity on a one to one communication level, like TKO Records, Acetate Records, and so on.
This concept was conceived by my thinking about how we can go beyond the current business model for music. The future is changing so fast for music and no one has stepped up to the plate to investigate a better way for Indie bands to survive in a world where labels are ripping off bands left and right! And people are downloading songs for free has become the norm. So I looked at how Indie films have the same problem as Indie bands -- how to get your product made without major label/Hollywood support. Indie films go and get sponsors to help them pay for the production costs. I researched that and talked to several companies that wanted to be our sponsors, and together we were able to keep our rights while promoting ourselves. It's a true cooperative effort that works out for everyone!
IMWT: That's unbelievable. It's a brilliant yet simple concept when you think about it, and it results from a sense of wanting protecting your own investment really--needing to for the bands' own survival. Now when you mention "sponsors," how have you gone about determining your target market? In fact it's not such a niche market as one might think, but really very broad.
Sal: Well, after first researching how Indie films get sponsors, I next surveyed all our mailing lists and contacted many stores and distributors that sell our records - and records like ours. I then made a determination about the demographics, which include males and females from 13 to 63+ years of age that like Rock and Punk music, horror films, pop culture, and computer based items (software, hardware, games, etc). This, of course, is a very wide demographic, and is a realistic representation of our fans that I find at our shows, where I again survey the people that I see there, and the people that buy our merchandise. EF has always attracted a very wide range of people, with diverse interests that ultimately converge in this one place where Punk, Rock, poster art, comic books, superheroes, monsters, videogames, fashion, and so forth all come together with EF as their central point of contact.
Our fans are evenly distributed between young and old, male and female, Punk fans, Hard Rock fans, Heavy Metal fans, etc. Finally, I surveyed all the EF fans from our mailing lists and asked what exactly are they interested in buying from potential sponsors, and what their interests are, etc. Then I made a list and using the data to decide which companies to work with in a sponsorship program. It's a lot different than doing something crass and fake like having a Coke ad on the CD (like Third Eye Blind did once) because the sponsors I have already, make the products that our fans are interested in and our fans are already interested in, so I am the go between that filters out all the huge amounts of websites that compete for attention and narrow it down to good, reliable companies that have cool stuff that people are interested in checking out.
What good would it do to have a Coke ad? It would increase sales for Coke and it wouldn't increase sales for EF. That would be fake; that would be taking money to promote Coke at EF's and our fans' expense. The way I am doing it, the fans and the sponsors are ALREADY interested in meeting each other, they just needed an avenue to do it. It's cool that all you have to do is click on a link and you can find cool toys, books, videogames, etc. no matter WHERE in the world you are, and no matter WHEN in time that you do it! I think that this idea will make history and change the way Indie bands that are already popular will be able to do business. AND, even a brand new band can do this on their own limited scale locally in their area. What's additionally great is that I have been contacted by at least four Indie labels that want me to get relevant sponsors for all their releases, which will total millions of records!
IMWT: Who have you worked with already and who can benefit from this method of advertising?
Sal: So far the sponsors are: Lucky 13 apparel, Sourpuss Clothing, Toytokyo.com, Wickedcoolstuff.com, Cryptoys.com, Something Weird DVDs, Rue Morgue Magazine, Posterpop.com, Tattoonow.com, Monster Energy Drinks, and others.
Companies that can benefit are all those that rely on the internet as a means of selling their items and who want to reach a broad range of people. These companies would be the obvious ones such as sellers of toys, records, videogames, DVDs, clothes, posters, and so on. But then also sellers of items that fit the lifestyle of people who buy Rock records in general, like related companies for computer hardware and software, skateboards, sports, online gaming, online music, travel, home decorating, singles dating, and so on.
IMWT: Why is this better than traditional advertising like we see in the music magazines or on websites?
Sal: A few simple but big reasons:
1. A print ad is a shotgun approach to marketing and is most good for brand name recognition but not sales. It might get looked at, but most likely ignored. Out of the hundreds of potential viewers, maybe one will actually answer the ad.
What we are doing is a Direct Marketing Tool that reaches people who want to be reached! You are interacting with the medium to actually directly click on the available link and are thus more likely to buy something. And they have already proven to be interested in the kind of products being sponsored!
2. Print ads are too passive; they rely on hope. Interactive ads are active; they rely on access!
3. Print ads cost way too much money for very little return. Interactive ads cost little and reach a targeted audience that has already opted in.
4. Interactive ads are good worldwide at all times, 24 hours 7 days a week. Print ads do not have this capability to be so universal.
5. Interactive ads are good forever. No matter how many times a CD is sold and resold, someone can access that sponsor's link as long as the website still exists, even years from now! How many times can a sponsor repeatedly afford to advertise in a current publication? And as many might not, how long is the shelf life of that publication? How many times is someone going to pick up the same magazine and read it again years later? With the CD, this is much more likely to happen no matter who owns it or how many times it changes hands.
IMWT: How might this appeal to people who've never heard of Electric Frankenstein, or might not believe their music will match their audience?
Sal: Well, as far as sponsors go, they just have to be aware that this is a modern marketing technique that reaches a wide range of people -- all people that like Rock music, which is a big demographic. And people that like Rock music have basic needs like everyone else, and also specific interests in things like films, books, music, clothes, etc. Our sponsor doesn't have to know who EF is; that really doesn't matter. What matters is that we are a means of providing them access to everyone that has purchased our CD -- again, a wide demographic -- and thus puts them a step closer to their own products.
IMWT: You're definitely keeping your publicist active with all of these book signings, and product promotion-- and then setting up dates for what looks to be a revolutionary new method of advertising in the music industry.
Sal: Yes, we have to have more than one publicist all the time -- one for shows, one for book stuff, one for the interactive CD stuff, etc. It is a load of work to coordinate all this, but we are making history here, and it is going to change the whole nature of doing business in the music world!
IMWT: So after the smoke clears, it's really not business as usual anymore -- that is to say, release the record, tour, come home, write material, etc. The EF name is so much more than just a band now-- it's a marketable vehicle along the lines of an Ozzy, or The Misfits-- even KISS!
Sal: Yes, and that excites both me and our fans in that the EF ideal will go beyond just music and into more things that bring fun and pleasure to their lives. We are the Punk version of Kiss, but done with our fans' direct interests in mind. We ask them what they want, they develop the course that we take, and they have the final say over what EF does for them. EF exists ultimately to make our fans happy! It is a lot more relevant to what people really want and so in a good way, it has quickly grown beyond our control, and like Frankenstein, it has become a Monster now that lives on its own!