INTERVIEW: Elefant
New York's brand of rock 'n' roll winning new fans wherever they go (Kemado)
By: Alex Steininger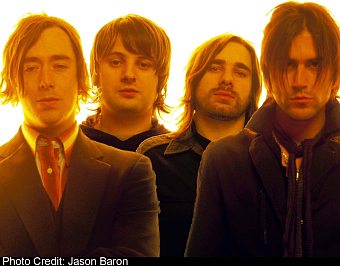 "We made a demo. We got signed before we'd even played a live show. So it did happen pretty quickly," says Diego Garcia, front man and songwriter for New York-based rock act Elefant.

"I met this kid who had an amazing vision of what a label should be and went with him," Garcia informs me, when asked how the band signed to Kemado before they had even played a live show. "I wanted him to develop me. They do it grass roots, natural, like they did it in the 70s."

The demo that got the band signed became the Gallery Girl EP, a 3-song disc that finds the band in rough, but still solid form. The EP was released February 4, 2003, with the band's debut full-length, Sunlight Makes Me Paranoid dropping only two months later on April April 8, 2003.

Part of the reason for releasing a 3-song EP only two months before the full-length came out was because Kemado wanted to set up the full-length, get some material out there to wet the whistle of fans before hitting them with the ten-track full-length that they were confident would turn some heads. And turn some heads it did.

The label has done a terrific job of helping the band reach their core audience, namely people who like earnest, straight-ahead rock 'n' roll with dark new wave twist buried beneath the roaring guitars and sinister melodies.

Due to the label's support, the band has seen an exponetial amount of growth in only a year, going from opening shows to headlining their own national tours, which they have done more than a couple times.

"The way the label is developing us has been great, we were never shoved down anyone's throats so there was no big bang. There was no way to go down," explains Garcia. "It's been all organic, all rising, always going up. This year we have a big opportunity to take it to the next level."

Due to the overwhelming praise the band has been receiving from both critics and record buyers alike, what Garcia means by "take it to the next level" is that several bigger labels are looking into buying the rights for Sunlight Makes Me Paranoid from the indie Kemado and putting it out on an even wider scale.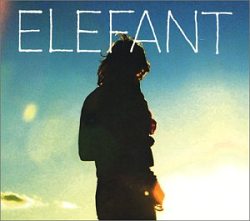 "I don't want to say 're-release' or 're-issue'," Garcia tells me when asked if another label plans to re-release Sunlight Makes Me Paranoid if they sign the band. "We're in talks with some people that will help take the record to the next level, that's all I'll really say."
Garcia isn't being deceptive or trying to hide anything. He just doesn't believe in discussing the future, prefering to live in the present and work with whatever is on his hands at the time. When pressed to discuss future possibilites and other labels coming in to further boost Sunlight Makes Me Paranoid, Garcia tells me a little, but not a lot, more.
"We're talking to some people to come in and take this record to another level. I don't know what the future holds for us but we have a lot of exciting things happening," he informs me. "It could be a good year for us. A lot of things are happening and all of them are good. Right now we're just focused on this record. We've still got a lot of stuff to do with it."
Garcia strongly believes that Sunlight has yet to reach his full potential, and his reasoning is sound. Each time the band does another tour of the states, he meets people who have just recently found out about Sunlight, told their friends about it, and earned some new converts.
"There has been a rejuvinated interest in what we're doing and more and more kids are getting into it," he tells me. "So, we're holding off on doing the next record because the reaction has been beautiful for the current record and the audiences are growing."
Where other musicians and bands fail to allow a record to reach its full potential, beginning work on another record only months after the previous record's release, Garcia doesn't see it that way. A college graduate, Garcia believes that following through with school and getting his degree taught him a lot about discipline and how to chase after your dreams. And chasing he is.
For a band with only ten songs on their full-length debut, it would seem songs don't come easy for the band, but that is not the case with Garcia and Elefant.
"I write songs, that's what I do. I'm writing songs daily," says the prolific songwriter. "Sometimes I sit down and a song just comes out or I'll sit down and get a nice melody down. But I'll usually sit down with five or six ideas and work on the ideas. A lot of times it's unfinished ideas that I work on, but do I do work on things daily".
When asked why the record only has ten songs then, Garcia quickly explains the band's mindset and reasoning.
"We did a lot of pre-production, and then went in and recored the ten we knew would fit the record," he says of the band's conscious decision to minimize money and studio time, to ensure a well-crafted record that didn't morph into something the band didn't want while in the studio.
He is quick to point out though that the band has a lot of leftover songs that were done and ready to be recorded, but just weren't. When asked if any of them would be on the next record, Garcia reminds me he doesn't like to talk about the future and how focused he still is on Sunlight Makes Me Paranoid.
"Right now we're in a nice position. We don't have any pressure," he adds. "So we're focusing on Sunlight."
The band's plans are simple: continue touring throughout the summer. Look for them in a city near you. Chances are, they'll be there more than once by the time the year ends.