INTERVIEW: Elbow
V2's latest singing talks about invading the U.S. (V2 Records)
By: ab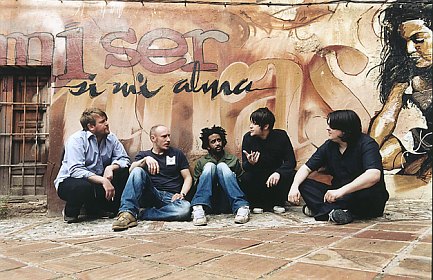 Amidst the hustle and hum of the current Granddaddy/Elbow/Starlight Mints tour, I caught up with Elbow to pick the collective mind of some of the band. While Elbow may not yet be a household name, their music has the ability to sink further into your subconscious and your soul than many of their British counterparts.

Elbow arrived in 1999 with their debut LP Asleep At The Back, which, according to Uncut Magazine, was the "most assured, imaginative and inventive debut of the year." From here they would go on to win a Mercury Prize as well. But alas, all of these accolades were from the other side of the ocean. The comatose American record buying public has not seemed to notice Elbow as they have not made it on American Idol or the cover of Rolling Stone, same difference. Since neither has happened, it will just have to be you and me.

I wound my way around the club to the caravan of tour buses and small entourages of roadies and was ushered on to the mobile home of the group.
Their inspired sounds made me wonder what keeps them going ... especially after hearing their new record Cast Of Thousands with its more optimistic tone than their debut album Asleep At The Back. "Seabirds inspire me... especially the albatross," states Guy Garvey, singer of the band. "You had a thing about the pelican for a while didn't you?" asks Pete Turner, bassist. Were these comments slights at my lack of musical knowledge? I didn't know, but I thought I should mention, "Well...we are very close to the coast; many a seagull travels here." Pete goes on to tell me, "It sounds cheesy as fuck but we inspire each other, you know, when it's just the five of us." With many years of playing together in differing incarnations, Pete informs me that the hardest thing is "trying not to smile, we all try not to smile...being humble amongst ourselves."
I agree that being inspired by one another is something that can keep you going during the rough times ... of which Elbow are no strangers to. But that is past. Elbow have moved on. One of the new songs on Cast Of Thousands is called "Switching Off". I have to say that it is one of the best songs I have heard in a long time. I asked the band to walk me through it. "Round at Mark's [Mark Potter, guitarist] flat, he'd come up with this beautiful pick on his acoustic guitar, I had the line 'teaching her how to whistle like a boy' ... this was the only lyric that I had. We worked out the chord progression and gave it some chorus chords. We then recorded it very traditionally, with the acoustic guitar, drums with brushes, and bass, back up piano and lots of harmonies." This is the stuff a "music journalist" loves to hear about: how the arithmetic occurred. "When we went into the studio with Ben [Hillier] we added the wind organ, the Lorenzo. Basically it had no volume control on it and in order to get it to fade and to rise you had to switch it off." Eventually, Mark conceded that the acoustic guitar had to go and the wind organ would replace it. Thus they came up with the title, "Switching Off".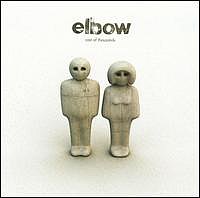 But what about the lyrics? With their dark, foreboding tones, I had mistakenly thought the song was about suicide. According to Guy, "it was triggered by a conversation that Pete and I had had years ago in this bar that we used to prop up called the Night and Day in Manchester. The idea is that if your life flashes before your eyes before you die, then you can choose your last words now and make a note. This then led to the idea of choosing your final thoughts as well. It's a double reference to someone chilling out with somebody and dying." If one track off of Cast Of Thousands is all you have time or the desire to listen to, this is the one. Hauntingly sparse sounds intermingled with lyrical imagery that softly points the way out.
This new record took some time to mold and had a shaky start. As Pete Turner recalls, "I remember before we went to Scotland we had a twenty song demo that we listened to with Nick and David (label ears) and it was like, twenty noises or other things were like really badly recorded guitar riffs. This was the best of what we had together, and just enough to get the budget for the record. They were initially very polite, but then the phone call came the next day: 'you haven't got any songs.' And we didn't." Nevertheless, a few studios later and the record would be complete. However, not until the finished sleeve work appeared did the group collectively feel that they had finished the record. Domestic release date of Cast Of Thousands is January 2004.