INTERVIEW: MC Chris
From Adult Swin to Up-and-Comer Nerdcore Raper, MC Chris shares it all (MC Chris' website)
By: John Ferrer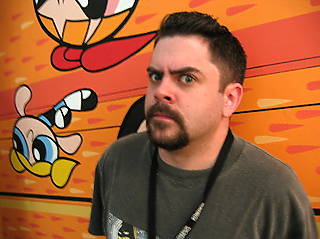 Cartoon Network's Adult Swim animation block has only been around for three years, but it's already assured itself longtime cult status through the absurdist humor of hilarious original programming like "Aqua Teen Hunger Force," "Sealab 2021," "Home Movies," and "The Brak Show." It's also the home of Chris Ward, a.k.a. MC Chris, a nerdcore rapper with an infamously high-pitched voice and a penchant for obscure Star Wars references. He enjoyed a healthy wave of Internet geek passion for "Fett's Vette," with its insanely catchy chant of "My backpack's got jets / I'm Boba the Fett / I bounty hunt for Jabba Hutt / to finance my Vette." We talked to Chris about his overnight cult success, his animation day job, and his latest independent release, Eating's Not Cheating, which is on sale now from mcchris.com.

John Ferrer (for In Music We Trust): Your first major exposure as MC Chris was on "Sealab 2021" on Cartoon Network's Adult Swim, while you were working there as a production assistant. How did it come about that you showed up as yourself in an episode?

Chris Ward (a.k.a. MC Chris): They did stuff like that to cheer me up. At the time, I was the only hired employee, and there was a ton of work to do. So they'd do little nice things to keep me going. Moving down to Atlanta with "Sealab" was a big step, and sometimes missing home would give me the blues. So they were just being cool. They were all about supporting unsigned folks like Calamine or Black Cowboy. When they put my website up in the credits, that's pretty much what started the whole MC thing.

JOHN FERRER: How long had you been doing MC Chris stuff before all that?

MC: I had been doing it at parties in the Souse House in Jersey, in between punk rock bands. We'd have like twelve bands play in our basement with each one getting a half hour. I would be one of those half hours. And there was also little stuff in college like talent shows. Dirt Bike Annie would always let me come up and grab the mike during the last song of their show. I rapped at CBGB's and punk clubs like that. I remember when Tunde from TV on the Radio and I were in a talent show at Rubin Dormitory, this was when we were at NYU, and he was bombing and then he gave me the mike and I tried to rap. No good. We both sucked. I think thankfully we've both improved since then.

JOHN FERRER: Did you expect to find such a cult following through Adult Swim?

MC: I thought no one was going to watch Adult Swim. And that's kind of how it was in the beginning. As its influence has grown, so has my little thing off to the side. People keep writing saying they heard me for the first time on "Sealab." And since we started doing the "Family Guy" repeats, we've blown up big time. And the MC side of things has just kept on growing alongside it. The cult following thing is a little weird, completely unexpected, and a really nice surprise that has made my life ten times more tolerable.

JOHN FERRER: Could you talk about the recording of Eating's Not Cheating? It was all homemade, right?

MC: Yeah. It was an extremely difficult process, given that my DJ lives in NYC, and I live in Atlanta, and we both had day jobs. Sales from Knowing Is Half the Hassle, my last EP, along with merch sales, they paid for my flights up to record vocals on weekends. I came up about three or four times. The booth I recorded in, or "John's bedroom" as I like to call it, would get hot as balls in between takes, and I would sweat a lot. I'd get to turn on the fan for a second but hardly long enough for any relief. I heard the Dungeon Family's Dungeon recording set up was like that. So I thought it was cool. We ate Teriyaki Boy, which is NYC Japanese fast food, for every meal, did webchats when we'd record to keep the fans involved. They mainly wanted to type swears. We'd also try to party and schmooze and network at night, but that usually just slowed us down. Lots of times I had to say, "Okay, today we just work, no more drinking John's booze."

JOHN FERRER: And what can people expect from the final product?

MC: I just wanted this to be a really good dorm room album. For parties, or just getting five people in your room to braid hair, or build Gundams, or whatever. We looked to Odelay and Paul's Boutique for inspiration, Licensed to Ill as well. We tried to keep our old sound, but go outside of that, bringing in real drums, guitars, saxophones, bells, string sections, etc. It all has that DJ John drum n' bass, dance party, industrial thing going on underneath, but we tried some more organic sounding instruments to break it up. My lyrics are kind of pop punk this round as almost every song is about a girl. Some songs are about multiple girls, other songs are about pursuing them or not being able to talk to them, or having your friend succeed with them while you fail. That and the internet. Online dating unfortunately has very much so infected this album. There is a huge dose of internet speak or references on the album. The rest of the time I'm either talking about how I rule the universe or how I like to smoke weed. And then there's always the geek throw-outs.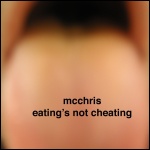 JOHN FERRER: Eating's Not Cheating is the third release you've sold exclusively through your website. Will you ever be willing to sign a contract or is it grassroots all down the road?
MC: I'm basically just talking to one group of people and will stay loyal to them until they say it ain't happening. After that, I have no plans to go through my fan mail and search for the little label in Arkansas that wanted to put us out. John and I never saw the point of splitting profit with a small label just to get into stores. I'm not sure how interested I am in "grass rooting" anymore, just because of the time demands and distance between my DJ and I. I think honestly, if I don't get signed by the end of the year there's a good chance I might hang up the mike. We make a nice chunk of change on the website, and that little bit of money helps with the bills, but it's not enough for both us to live off of. It's almost there though. Sticking with my day job at Cartoon Network and not having that little extra bit of cash will suck, but I might be a little more at ease and not so stressed. Then again, we don't know what's gonna happen. We might be stars. There's always gonna be more music if people want to hear it, you just might have wait a while. I've never taken a vacation, never been to an island or outside the country and frankly, I could go for that big time. I'd like to take a year off just writing, pick the best stuff, see what happens. Don't get me wrong though, I've already starting writing for the next album. I honestly can't help it.
JOHN FERRER: The beats on your albums are just as original and distinct as your voice. How did you meet your DJ, John Fewell?
MC: His band, Attention Deficit, covered Dirt Bike Annie songs. They were both on Mutant Pop Records. He came to DBA shows and out to parties and we always got along. I loved his music. His approach was heavily produced drum and bass mixed with punk and pop and just general nonsense. It was a great mix. I really liked his use of synth drums combined with noisy guitars. He made me some beats and I wrote some songs and now we're here.
JOHN FERRER: One obvious influence you've taken from hip-hop is a strong use of pop culture references. Do you sit down and say "This song should have a joke about Wolverine," or "This song is going to be all about Boba Fett's rich playboy lifestyle," or does it all just weave its way in?
MC: I think most children of the eighties use our childhoods as reference points to better times because our twenties are often much more ho hum than our childhoods. So there's this big boom of He-Man and Transformers and G.I. Joe and Teenage Mutant Ninja Turtles and Care Bears, etcetera. It's all just wishing we were still young, no responsibilities, no worries. It was easier. So that became our language in college (with a little help from Kevin Smith and QT). Everyone that's supposed to get it does, the references aren't too obscure, and we all just kind of say to each other, "We're not so different. We all grew up with the same toys." There are some things I'll come up with that have no song yet, like for example, "you're sweeter than a Tonka truck filled with Wonka Runts." Doesn't have a song but the references are in place. It's just a matter of time. That's not how it usually works. It's mainly like I said before, it's just who I am, part of my language. They rap about rims and Jacob the Jeweler. I'm more likely to talk about Mon Calamari.
JOHN FERRER: Your first album was available as free MP3s when it first came out. How do you feel about music sharing and digital music technology?
MC: Well it will hurt us now, hurt our miniscule profits if people stop buying the album. But because we're grassroots, we need word of mouth advertising. That means MP3-swapping up the ying yang. We wouldn't have anything going on for us right now if it weren't for the net, so I'm thankful. Fans in other countries? It's because of song swappin'. So you reach a great amount of people. I've lucked out. People download and then go and buy the album just to show support for something they like. And the fact that I give them songs for free is a sign of good will, I think. you don't want to scold fans. that seems kind of retarded and counter-productive. This summer I'm going to record a song for the winner of this remix contest we did on the site. I'd also like to start doing some "Web only" songs. I have plans to do one the next time we record, which will be in May, most likely. It's my way of saying thanks.
JOHN FERRER: Last question: Did Lucasfilm ever come after you about "Fett's Vette"?
They never approached me. Thank god.