INTERVIEW: Me First and the Gimme Gimmes
Punk Rock's Ultimate Cover Band (Fat Wreck Chords)
By: Alex Steininger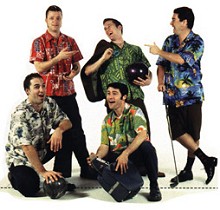 Pop-punk's biggest super group, Me First and the Gimme Gimmes don't write original songs. They're a cheesy cover band! And yet, punk rockers and pop fans alike love them to death. How does that work? They re-invent the pop hits of yesteryear and turn them into pop-punk gems. Their latest, Blowin' In The Wind is a tribute to 60's classics like Dylan's "Blowin' in the Wind," The Beach Boy's "Sloop John B," Tammy Wynette's "Stand By Your Man," and the ever popular "My Boyfriend's Back," just to name a few.Talking with Chris from his cell phone in New York, we discussed the band, their vision (or lack thereof), and what it means to be a member of Me First.

"We all have serious bands that we do," Chris says when asked if the day-job bands ever take a back seat to Me First. "Me First is just a side project we do for fun, so the other bands never wait on Me First. Me First waits on the other bands."

Knowing that most cover bands are notorious for playing some cheesy bar five nights a week to make their living, I started to ask Chris about the band's vision. Whether or not they toured to sell records, whether or not they actually put enough effort into the band to try and make it something more than just a side project. Or, if they let the fans come to them.

"A year or two ago we did a few local shows," he says thinking back. "But we've never done a national tour before. We're doing the whole warped tour this year, though. The complete line-up."

Remembering a few years back when I missed Me First during NxNW, I ask Chris about that. If they never toured, what was the gig at NxNW all about?

"At one point Mike thought it would be funny to put a replacement tour together with Spike, since he was just the Fat Wreck Chords shipping person at the time and didn't have any other bands he was committed to," Chris says laughing.

He pauses and then sums up the replacement band and how it went over with fans: "It was a complete disaster."

He then brings us back to their upcoming appearance on the Warped Tour.

"This summer is the first time we'll do a real tour," he says excitedly. "We're going to bring a full service bar on tour to create atmosphere. It's going to be a lot of fun."

After hearing about their upcoming tour, I think to myself, "are they touring because the label wants them to get out there and push the album, or because they just want to try out the experience?" Chris is quick to answer the question for me, of course.

"No, that's not the point of the band. It's just a joke," he says. "Since Fat Mike is in the band and the owner of the label, there are no worries."

With the super group at their fingertips though, has the thought ever crossed their mind to record original tunes together seems to be the obvious question on my mind, and several other fans, I'm sure.

"We didn't start the band to write songs together. We all write songs in our other bands. And the other bands are there for our creative intellect. We just like to kick back and have fun with Me First. It's not about anything other than having fun."

How do they come up with songs to cover then, I ask him expecting a sarcastic or humorous reply. However, I get quite the opposite. He tells me that anyone can suggest a song, that everything people suggest to them they take into account and try to work it out. If it works, they use it. If they don't, they pass on it. Simple and honest as that.

I quickly suggest Britney Spears, being the ass I am.

"Something like Britney Spears-- the joke would be too obvious," he says before indulging me by telling me that "we'd be up to it. There is nothing too lame for us."

What about the new album?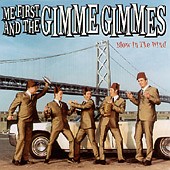 "The new album, Blowin' In The Wind, is all about 60's songs. Though, I think "Wild World" by Cat Stephens came out in the 70's."
They try to make a record dedicated to 60's pop, but sneak in a 70's classic by Cat Stephens. Me First are truly in it for fun and don't care if they fuck up along the way or if they make fools of themselves. Just as long as they have fun.
Chris closes the interview by telling me to pass on to my readers that they should "get ready to be disappointed kids, because the Me First and the Gimme Gimmes are hitting the road this summer!"
I'm sure they'll be prepared to make fools of themselves, as long as there is something laughing.