INTERVIEW: Cheap Trick
An interview with guitarist Rick Nielsen (Cheap Trick's web site)
By: Derek Brown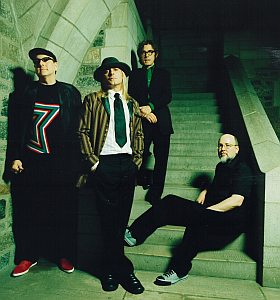 "Cheap Trick is the greatest American Rock band ever--". I raise eyebrows every time I say that. I suppose I should be more specific. No band more perfectly bridged British Invasion pop and American punk than Cheap Trick. If you were weaned on the Beatles, they were the perfect group to wet your appetite for something with more rough edges. If you have never seen Cheap Trick live, you must. Though these guys have been at it for three decades, they attack the stage like a bunch of fired up (though consummately professional) young 'uns every night. They also still write some of the hookiest power-pop out there (as evidenced on their new album, Special One). I got a chance to talk to Rick Nielsen between touring and recording.

DB: So, Sick Man of the Year ended, and Cheap Trick was on the road for three years or so before making the first record?

RN: Yeah, well-- let's see--it would've been '73--we played '73, '74, '75, '76--we recorded our first album in '76. We'd built quite a good following by then.

DB: What kind of places were you guys playing back then?

RN: Oh, excellent stuff--dumps, of course--We'd play six nights a week wherever they would take us--we'd tell them --"you play top forty?" "oh yeah"...and we'd get there and we didn't play it and then-- a few places liked us and some of it-- if they didn't know the songs they'd ask us to leave. So we worked a lot, but to get the work we had to tell people we were doing something that we weren't. But it was good, 'cause we ended up with a good following, we built a following from zero. Some shows we did we had one person there--that was the bartender.

(laughs)

DB: I saw your son playing drums with you guys last year or the year before. Is he going through the same thing now? Is he out on the road?

RN: They're out on the road--two of my sons have a band called Harmony Riley, and actually, he's in Los Angeles right now, he's going to audition for Melissa--she played with Hole--

DB: Melissa Auf Du Mar?

RN: Yeah. She called him up, and he flew out there just yesterday to do an audition for her new thing-- Whether he got it or not--.?

DB: You don't know yet?

RN: Oh no, he's on his own now--he does that and Miles and my other son, he has a Graphic Arts business, and plays music too. Plus my son Dax is a drummer. He gives drums lessons and he's back in college. He was a straight "A" student at Indiana University--then he says to me, "I want to quit college and be in a band" (Laughs) So, what could I tell him? "Oh you can't do that!" So now he's taking college courses and playing-- The best of both worlds, you know?

DB: One of the things that I think is cool about you guys is how you end up working with a different producer on every record--.

RN: (laughs) Every producer we work with hates us so much they won't work with us again--

DB: (laughs) Is that what happens? Jack Douglas got in there more than once--

RN: I don't think that's it, but you know-- a lot if it is "let's try something new", their schedule--our schedule--that kind of stuff--you know.

DB: So are you guys constantly looking for somebody or--

RN: We're always looking for somebody that's-- What we usually do is we wait for somebody to come to us. You know, where there's somebody saying "oh I'd love to..." I just did an interview with a guy who was like, "man, I quit doing rock stuff, I've been doing features," or something like that, "when I heard I'd get to do an interview with you, I went backward in my career to do it!" (laughs) It was kind of a left-handed compliment, you know? He's a feature article guy, and Cheap Trick was one of his favorite bands. It wasn't Christina Aguilara, or n'sync. He didn't want to do that, but he wanted to do us--so that's kinda cool.

DB: Yeah that's sort of where I'm coming from, I've always loved you guys. I'm a drummer, actually--

RN: I started out as a drummer, yeah, that's the only stuff I ever took lessons on. I took drum lessons from a guy named Frank Arsenold-- look up his name--he was the "Rudiment King"--Flamadiddle, paradidle--all that kind of stuff.

DB: And that was back in Illinois?

RN: Yeah, that was back in grade school and junior high school. I loved Sandy Nelson and Gene Krupa, and all that stuff. I learned then, I got in bands, and the guitar players were so lousy that I ended up teaching myself how to play--its true. That's what happened. Now the drummer wants to kick me out--

DB: The drummer wants to kick you out?

RN: (suddenly jokingly serious) I'm just kidding--..Maybe he does-- I don't know (Laughs).

DB: Another thing that I think is cool about you guys was how deep your website is--

RN: You can go fairly deep, and that's actually the fifth website we've made, so I'm hoping we can go backwards and get the old websites too, 'cause I always think that's cool. Then you tell somebody about a website and they go there and they changed it, you might like the new stuff, but you also liked the old--.

DB: Has making yourself accessible to your fans always been an important part of what you do? Have you always been so conscious of that?

RN: Yeah, you know, with Bun E.'s Basement Bootleg tapes and all that kind of stuff that we have on there, there's always something going on. If you look at our website today, Michael Waltrip yesterday, NBC caught him singing "I Want You to Want Me" before the race--and then he won the race! That was just yesterday. So, you know--a little news item you throw in there.

DB: Is recording a constant process for you guys? Are you always working on new stuff, or do you tour and then take a rest?

RN: Actually, starting next month, I'm trying to get a bunch of tunes ready for the new album!

DB: What kind of process...do you sit by yourself and write stuff? Or is it more collaborative?

RN: Well it's more collaborative later. You know, at first, it's too hard when you have a bunch of people sitting in a room, you know? You can't even think if everybody's in the room at once. We had 40 or 50 songs for this record before we did it. They weren't all finished, but 40 or 50 things that you try to--figure out which ones are good enough to make it.

DB: Well I'm glad I got a chance to talk to you, Rick.

RN: Alright Derek, adios.