INTERVIEW: Cherry Poppin' Daddies
Front man Steve Perry Discusses Popularity Contests (Mojo Records)
By: Alex Steininger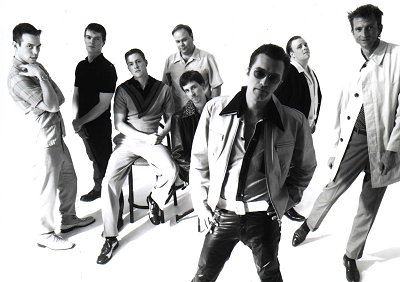 "We were frat-rock and it was a big blow to us because we had horns," says the relaxed front man for platinum selling, genre hopping band the Cherry Poppin' Daddies.

Steve Perry (no, not the guy from Journey), wasn't an overnight success. He led the Cherry Poppin' Daddies through thick and thin, when it wasn't cool to be anything else but grunge in the NW.

"It really bummed me out," Perry says on the band's inability to fit in with other NW bands that were spawned from the same punk rock roots as he was. "But, I stuck with it, though, because I loved what I was doing and there wasn't really anyone else out there doing what we were doing."

He continues, "I never was into the whole grunge or NW thing. It was like campfire chords with distortion. It wasn't punk rock at all. And though it spawned from punk rock, it just didn't seem to hold true to what punk rock was all about. I look back on it all and think that I was very na?ve to feel that I'd be accepted just because we all came from the same thing."

But after a decade of the club and college tour circuits, the Cherry Poppin' Daddies hit it big in the swing revival phase with their jumpin' jive smash "Zoot Suit Riot".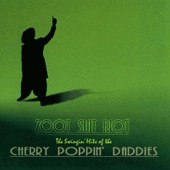 "People would always come to our shows and ask which CD had the most swing on it," Perry says of the origins of the twelve track compilation CD Zoot Suit Riot, their major label debut and cross-over album that had adults and kids alike dancing to the same beat.

"Our old manager, Howard Libes, decided we needed to put out a new record," Perry elaborates. "But, since we had no money to do so, he thought it would be a great idea for us to record four new swing songs, put on all our old swing songs, and release it as a new record. He thought we could sell a shitload of records this way, and people would stop asking which CD had the most swing on it. So that is what we did and that is where Zoot Suit Riot came from."

But for a band like the Cherry Poppin' Daddies, swing may have been a big part of their appetite, but it is just the tip of the iceberg for what the band can do. Fusing, ska, metal, punk, pop, and even country into one big sound, CPD is more than a cookie-cutter band manufactured for a swing revival.

"We always played with ska bands because we had horns," Perry says of the band being pigeonholed. "Of course, we've always played with swing bands like Royal Crown Revue because we put out the all-swing disc. Though, we'll play with anyone."

Continuing with the conversation about the success of Zoot Suit Riot, I brought up the question about pressures from the label to follow-up its success.

"Neither the band nor the label put pressure on me to re-create the success of Zoot Suit Riot," Perry says with pride in his voice. "The label knew it was just a craze. The world revolves around 14-15 year olds and the boys hated swing. To them we were fagots. Girls loved it, though, and so it became a trend. The label knew this would happen and knew the vision I had to shake it up. They completely trusted me and let me do my own thing.

"We got lucky. The label knew we were a hybrid band and they knew we'd have to make a second record for them, so they just told us to go in and make a record that we liked. They told us to do our best and do it the right way. We got very lucky.

"Also, There wasn't any pressure because nobody thought the record would do anything.

"We never really fit in; especially in the mainstream. The mainstream is a moron world." Pausing for a second, he soon continues.

"I sort of wanted to make RAPID CITY MUSCLE CAR [their third full-length] over and over again - a concept album about ideas. It may sound weird, but that's how I like it. Soul Caddy is back to what we've done all along. This is how we make records."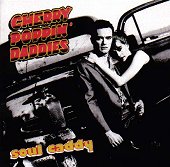 Soul Caddy, the band's fifth full-length to date (including Zoot Suit Riot), and second for Mojo Records, finds them as eclectic as ever. "Diamond Light Boogie" is a disco-rock number; "Irish Whiskey" is a prog-metal song with punk tendencies; and "Soul Cadillac" is the band's nod to ska-soul. Of course, there is plenty of swing to be found, too, especially in the aptly titled "Swingin' With Tiger Woods (The Big Swing)".
"I always felt separated," Perry offers. "I never felt like I fit in. I think Soul Caddy sums up these feelings pretty well. That's what the album is all about, never fitting in and coming to terms with that.
"During the making of this album I felt very isolated and wanted to make a record to get this out of me. I wanted to become less isolated. Not all of it was negative isolation, but I wanted to feel less isolated."
To expel some of the feelings of isolation, during the recording of the band's single, "Diamond Light Boogie," Perry went through a process he's never had to encounter before.
"'Diamond Boogie' is our first single. This was my first experience having people tell me something like, 'We don't like it. Can you make it more like this...'," says the lead singer with both comfort and frustration. "I had originally done a version and they didn't like it. It wasn't quite right. So we brought in someone in addition to me to produce it and then we fucked around with it some more. They still didn't like it and told us to give it another shot. It incrementally got better or worse, depending on how you look at it.
"It was a real group effort. We never got a definitive take. It was the last thing we did on the record. Everyone liked it, but couldn't say why. And everyone hated it, but again, couldn't say why.
"I liked what I had the first time, but the label didn't. So they gave me a vague idea of what they wanted. They're not musicians, so they really don't know how to express what they want it to sound like.
"The overall feel of the song is glitter rock. Glitter rock was dance music; people used to dance to rock 'n' roll. Glitter rock was a pre-cursor to disco. I found that very interesting. I wanted to rock people with some 50's rock, but also wanted to give them that dance feeling."
Thinking, he eventually sums up the song by saying, "it's more Phil Specter and less Iggy Pop. Like the New York Dolls' brand of R&B; they wanted to do R&B, but ended up doing trash garage rock."
What does he want the listener to get out of the album?
"If the listener is to get anything from this album, I want them to get what I'm saying," he says without hesitation. "I get Tom Waits and Hank Williams when I listen to their records. I just don't get Beck. He's poetic and I really like the music, but I don't know him from the music and just don't get him. I want people to be able to listen to my songs and get who I am and what I'm feeling."
Making one final note on the album, he says, "I really wanted to be understood on this album. It's about friendships, positive and negative."