Quasi
Hot Shit! (Touch and Go Records)
By: Alex Steininger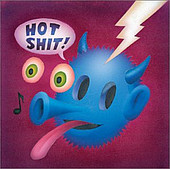 On Quasi's latest, Hot Shit!, their sixth full-length, and second for Touch and Go, the Portland-based indie-pop duo further explores sounds, textures, and the meaning of said sounds and textures. Ditching the Roxichord, the sound they're most notorious for (and the instrument they've build their pop experiments on), they go for a rootsier (albeit not country), less chaotic sound, while exploring the blues (that they only touched upon on previous releases, touching upon it ever-so-slightly more this go 'round). Front man Sam Coomes' blues solo record, released under the moniker the Blues Goblins earlier this year on Portland-based Off Records, seems more than a bit of the reason blues seeps into Hot Shit!. But there are plenty of other variances, as with any Quasi release. Pop gone mad and other descriptive phrases work well for this duo; they haven't lost their scientist minds for twisting and manipulating pop.

Even though the Roxichord is gone, they have found a way to take their sound to the next level and move on, without leaving anyone in the dust. A hard thing for any band to do, let alone a band that has created an amazing formula over the course of their previous five releases. Quasi's Hot Shit! never looks back, and it is one of their best records because of it. I'll give it an A.