Quasi
The Sword of God (Touch and Go)
By: Alex Steininger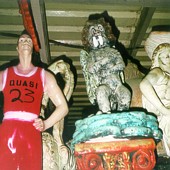 Your favorite Roxichord-fronted pop band, Quasi, are back at it again. Their latest, The Sword of God is a collection of smart pop songs, with Sam Coomes' jaded, skeptical lyrics bursting the bubbles of those who crave attention and will do anything to get it ("It's raining, It's raining - there's nothing you can do / It doesn't only rain on you" - "It's Raining").

With tongue-in-cheek humor and plenty of sarcasm, as well as astute observations, Quasi's lyrics are a big part of what makes the band such a hit. Though, the power of the lyrics is just a part of what makes Quasi so dynamic.

Janet Weiss drums with such control and passion. She seems able to whip up the perfect beats for any occasion. Whether its the slow tap of "Fuck Hollywood" or the bouncy "The Curse of Having It All," Weiss pushes the songs well beyond their limits and it sounds great. Such is the case on "The Curse of Having It All," in which Weiss not only adds the rhythms to make the song tick, she sings lead. Her voice floats over the song, furthering the glowing pop melodies with even more sugar and grace.

Coomes is the other part of the dynamic duo that makes it tick. His Roxichord buzzes throughout the album, helping them stand out amongst other indie pop and indie rock acts, and giving the band their distinct sound and flavor.

From the guitar-rock turned jingle-y pop of "From A Hole in the Ground" to the buzzing, full-on pop blast of "Genetic Science," through the simmering delight of "A Case Of No Way Out," Coomes and Weiss create memorable pop songs, good from start to finish.

Each song, of course, has Coomes and Weiss' trademark vocal harmonies, with Coomes on lead and Weiss' sweet, beautiful vocals adding a harmonious sound, which, without, would leave Quasi with a big gap to fill.

A true duo, Quasi wouldn't work without both Weiss and Coomes stamping their personality on the songs. And, The Sword of God, the band's latest, and best to date, is proof of this theory. Together, the two of them make some of the most beautiful songs, whether they're rocking out and shattering your perception of pop, or serving up a bouncy jingle that catches you singing along and bopping your head to the infectious tunes. I'll give this an A+.