Quasi
Field Studies (Up Records)
By: Alex Steininger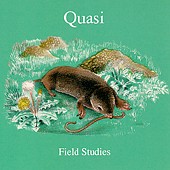 Many things are quite amazing about this pop duo. First off, they used to be married, but now they play in a band together. If that wasn't enough, their jaded, pessimistic boiling point is reached during the course of each song, which causes the tension that seems to drive the band. And yet, on top of it all, they're blissful melodies and beautiful harmonies put a smile on your face. Contradicting themselves at every turn, this keyboard-centered pop duo sets the indie pop bar high enough to ensure nobody else will reach them.

Opening the album with "All the Same," frontman Sam Coomes quickly reaches the conclusion that "I'm not gonna give it up for free anymore/ And I don't really care if you label me a whore." Janet Weiss' percussion perfection keeps the beat tapping around in your head while Sam's fuzzed-out buzzing keyboard consumes you. All the while, Sam's gentle, jaded voice pushes and struggles along as the pessimism he seems to believe in fills the air. Surprisingly though, it isn't depressing or a downer. Coupled with the warm melodies (and the addition of strings), the down-and-out feel of his words seems to give you a second wind and re-charges you for your next battle.

The infectious "The Skeleton" puts a bounce into the album. Janet Weiss' drum kit jumps around with a gleeful spring; Sam's keyboard hums along with a warm, inviting air as well, ensuring that the quick, minute and forty second ditty penetrates your head and sticks with you for quite some time.

"Birds," not to be confused with the song of the same name from their previous album, FEATURING "BIRDS", brings forth some classic Sam Coomes lyrics that will echo around in your head and make you not only feel them, but think about them as well. "Free as a bird/ Or is that just a word/ Oh to be free/ To free myself from me," leaps out of the song with great force despite Sam's easy-going, gentle singing of the words. Once again coupling his monstrous lyrics with pop perfection, if they don't instantly stick, they probably never will (which is doubtful).

Starting off with a minute and a half long vocal harmony backed by Sam's keyboard, Janet and Sam seem to be at the top of their game as their voices blend together to create beautifully ethereal harmonies that are comparable to classic Beach Boys, if not twice as good. But, when the lyrics hit, the true power of the song begins:

"I went and sold my soul so I could pay my rent/ I waited by the mail, but the check was never sent/ So I called the Devil up, but I just got his machine/ I left an angry message, said I gotta have the green!/ I didn't give up then, but I made another plan/ If Satan didn't want my soul I'd sell it to the man/ I tried to find the number, but it wasn't in the book/ I'd get the money anyhow, no matter what it took."

Straight to the point, it speaks from experience and is easily a universal thought that everyone has had during some point in his or her life. Sam's wisdom shines through almost as bright as his melodies and hooks. Janet's light, dreamy percussion swims around in your head with ease while Sam's keyboard clouds up your mind and ensures Janet's keyboard is the dominant sound echoing in your brain.

"Me & My Head" starts out with delicate guitar riffs that trickles through the sad, yet strong, percussion beats. Sam's voice reaches an emotional high as he seems to struggle to get each word out of his mouth, as it seems too painful to even speak. Going with a melancholy approach rather than the bouncy pop that fills this album, they song focuses around Sam's words and hits you at every intersection as you feel, almost bleeding, the pain that lives in the song.

"Two by Two" brings Janet to the forefront as her lead vocals continue with the melancholy feel of the previous song. Her light, sullen drums quickly sink in while her soothing voice glides over your wounds and cheers you up. But, with two melancholy tracks in a row, it becomes time for the band to rock out and bring you right back up; "It Don't Mean Nothing" is the perfect song to do just that. Janet once again takes control of the lead vocals and rips through this one with pure energy. The screaming drums roar through the song while the guitar cuts right through it all and slices the listener up with some sharp notes. Presumably, this is the track that was recorded at Janet's home studio, as its demo-ish feel contrasts the warm pop of the rest of the album, and puts a big bite back into their sound.

"Smile," the uplifting number of the album is another brilliant display of the powers of Quasi. Lyrics "Common as the cold/ Up for sale, never sold/ Getting older and it shows/ Your disappointment only grows/ And no one seems to care/ That you never got your share/ Who said life was fair?/ So smile - it's not so bad." The lyrics are once again pessimistic, but display an understanding of the nature of life and cheer you up as the realization is reached that you just need to "Smile - it's not so bad." The strings help erase any doubt on the part of the listener, while the bouncy rhythm section pounds home the cheerful beats that are needed to truly deliver the message.

Quasi is truly bigger than the sum of all its parts. Sam and Janet's conscious perception of life, their pessimism and doubt, and their struggle to overcome it all, as well as their natural born gift of writing some of the best pop out there, makes them one of the world's most precious treasures that should not be taken for granted. I'll give this album an A+.