Orwell
Following Days (A Hidden Agenda Record)
By: Alex Steininger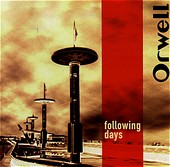 A French trio, Orwell's Following Days is sung in French and English, a beautiful combination that proves French is one of the sexiest languages out there. And if that or the accent on the English songs can't seal the deal, the lush, delicately layered pop melodies will.

Following Days is steady and relaxing, never going beyond its mid-tempo approach, but that is how the songs work best, effortlessly filling the air with gentleness and happiness, the slow, syrup-thick rhythms and the brushing guitar tones set atop the melting vocals. A winning combination that doesn't let its guard done, providing the romantic soundtrack you desire or the slumbering, peaceful sounds you crave. I'll give it an A.