INTERVIEW: Tegan and Sara
Canadian Twins, Dynamic Duo (Vapor Records)
By: Alex Steininger


"Ryan Adams' booking agent was putting together a tour and Ryan compiled a list of artists he'd like to tour with. We were second on the list," laughs Tegan, half of the sibling duo Tegan & Sara. "The first person on the list was pregnant, so we got it."

Tegan is quite happy to elaborate the call she initially received from Adams, a moment she will never forget, and how Tegan & Sara landed a recent U.S. tour supporting Ryan Adams.

"His manager called our manager and then Ryan called us. He knew the record," she says with excitement. "We shared the same publicist a few years ago and he got our first record and wasn't blown away. But when the second album came out, he checked it out and loved it. When (Adams) called, he named all of the songs Sara had written, like 'Underwater' and 'Monday Monday Monday.? I told him he should talk to Sara because he was obviously a Sara fan because he didn't name any of my songs.

"So he asked which songs were mine and I yelled, 'All the ones you didn't name!'" Tegan continues, half screaming, half laughing into the phone. "It really broke the ice, I think."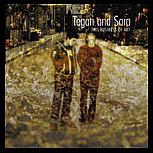 The Canadian-based twins, who have been writing together since they learned guitar, have been playing out as Tegan & Sara since the 2000 release of This Business of Art, their first commercially released full-length on Vapor Records. Prior to This Business of Art the duo self-released a full-length under the name Sara & Tegan, Under Feet Like Ours, which ended up getting them signed.
"Literally two months before we got signed, we had decided to go into the studio and record a new record, the follow-up to Under Feet Like Ours. We recorded This Business of Art," recalls Tegan. "Then we got signed and handed Business over to the label, expecting them to tell us it was good, but it could be better, and then putting us in the studio to record a new record. But they loved the record and agreed to put it out."
Thus began Tegan & Sara.
"This Business of Art didn't play well live," Tegan informs me. "The difference between the new record and Business is the fact that we can play the new one live a lot better. The new record has a lot more confidence."
A lot of that confidence is due to the fact that their label, Vapor Records, was completely hands-off, allowing the girls to create the exact record they wanted to make, checking in only periodically to make sure the girls were happy with the record the record they were making.
"We called and said we were ready to start recording and they said 'OK'," laughs Tegan. "They came into the studio halfway through the recording and said 'sounds good'. Then we called them and said we were ready to master it."
Displaying their punk sensibilities in a folk-pop mold, Tegan and Sara stretch the boundaries and perceptions of folk, and pop for that matter, creating a masterpiece in If It Was You, their sophomore effort, and first for Sanctuary. Using their two distinct writing styles to add different dimensions to each other's playing styles, the two girls create a lush arrangement of sparse moments complimenting a much fuller sound.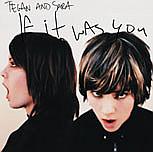 "If It Was You isn't about doing things we didn't do on Business. Things just started snowballing and getting bigger and better," Tegan tells me. "There are major differences in the way Sara and I write. But on the new record it's more of a band effort. Less Sara & Tegan separate and more of us writing and working together."
The two, who admit to drawing better in Canada than in the U.S., with the exception of the East Coast, are set to embark on a West Coast tour the first part of 2003 to further expand their fan base. Their plan is to keep hitting reliable markets while trying to develop other strongholds in the process. Look for them on the road throughout the first and second quarter of 2003.