INTERVIEW: Telefon Tel Aviv
Growing beyond electronica
By: Alex Steininger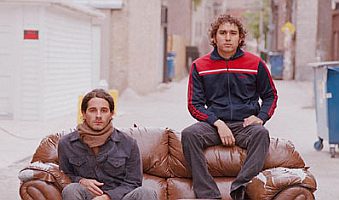 Formed in New Orleans, 1999, by two friends, Joshua Eustis and Charles Cooper, who came together with a love of electronic and classical music, Telefon Tel Aviv was formed.

The duo recorded a four-song demo and sent it to their favorite indie label, Chicago-based Hefty Records ("It was the only demo we sent out and the only label we wanted to be on", says Cooper with confidence). Cooper and Eustis were slightly surprised, but more so excited, when Hefty called them back upon hearing the demo and offered to put out their record.

The result was 2001's Fahrenheit Fair Enough, a collection of ambient techno and pure electronica beats. The Immediate Action 8 EP would follow in 2002, and their duo's sophomore full-length, Map of What Is Effortless, was released January 27, 2004.
"It would have been boring to do Fahrenheit again," Eustis says, "for us, and for the people that have heard us before. So we challenged ourselves."
Map of What Is Effortless was the challenge, and the band more than lived up to their own expectations.
"The addition of the singers, and the fact that we went into it writing songs this time," comments Eustis on how the duo felt challenged. "All the orchestration, too. There was a lot of stuff we didn't do on the first record, stuff we couldn't pull off or just couldn't afford to do. But we did this time around on this record."
"We added Damon [Aaron], the male vocalist, later in the game. We added him about three-fourths through the recording process. Originally we thought it would just be Lindsay [Anderson]," adds Cooper. "We did everything we could drum up for this record. We put all our ideas into it. We put every stupid idea we could think of into the record. And we'll do that again for the next record we're making, which we've already began writing and thinking about."
After pushing the envelope on their own sound, and employing more of a melodic structure to their songs, lessening the electronica and making things more rock oriented, without losing the electronica edge, and following the album's release, the band's new goal is to win over new listeners.
"We'll lose some fans, we know that," admits Cooper on the fact that the band has heavily enriched and furthered their sound with Map of What Is Effortless. "But we hope to gain new ones. We want people to know we're not going to limit ourselves to just one audience. Just because the first record was predominantly electronic doesn't mean that's what we always want to do. We want to expand and gain other fans in other genres."
"We want to get to more people than we did with the previous record," adds Eustis.
We then begin discussing the record, how they originally envisioned it, what kind of thoughts or ideas they went into it with, and how the final product turned out compared to their original perceptions of how it was going to be.
"The record turned out darker than we originally thought it would be," confesses Eustis.
"As we are writing we have things on our mind, but things do take on a life of their own. But we pretty much know where everything is going to be," he further explains.
"When we go into an album we know about what tempo we want everything to be, and how we want an album to sound. We go into an album with a storyboard or a screen play," Cooper informs me.
With such a rich, textural sound as you would find on Map of What Is Effortless, and employing as much electronic instrumentation as they do, it makes it hard for Telefon Tel Aviv to be considered a live band, something they are working on.
"We would like to tour more than we do," shares Eustis. "We're a hassle, though. We're more than a lap top band like other electronica bands, but we're not rock enough to be considered rock."
"It's not exactly how we'd like it to be yet, but club to club it differs," Cooper chimes in, telling me the live show is something the band is definitely working on and something they want to fine-tune and perfect, much like they have their songwriting and recording methods.
"You know, we've only played our hometown, New Orleans, as Telefon Tel Aviv once," Eustis laughs. "We mostly just play Chicago now, as that is where we live and where the label is".
Look for the band to hone their live show and to hit the road soon in support of Map of What Is Effortless.