Earl Scruggs
Classic Bluegrass Live 1959-1966 (Vanguard Records)
By: Alex Steininger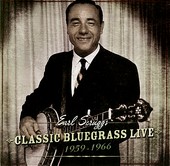 Live recordings from banjo legend Earl Scruggs' Newport Folk Festival performances - 1959 with Hylo Brown and the Timberliners and 1960 & 66 with Lester Flatt and the Foggy Mountain Boys. Capturing the master of the banjo at his best, this live recording spans seven years of Scruggs and his collaborators. It proves how the blue collar, rural musician's bluegrass caught on with folk hipsters and college intellectuals, an odd fitting for sure, but one that understood the language Scruggs' banjo and music was speaking.

Classic Bluegrass Live 1959-1966 is history revisited, a slice of Americana that forever changed the face and shape of music. Bluegrass and folk were never the same after Earl Scruggs' influence. His playing became something musicians emulated and paid homage to, and still do to this day. This is a testament to why. I'll give this an A+.