INTERVIEW: Mortal Clay
The Unseen Element (www.mortalclay.com)
By: Jett Black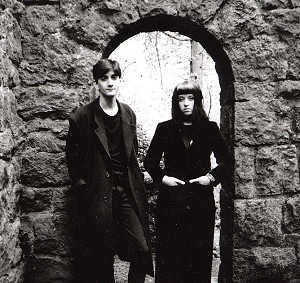 Pumpkin-carving festivals will soon be cropping upon every front porch. And just in time, Mortal Clay (Portland, Oregon) steps up to the mic with a full-length debut tuned perfectly for audiences that favour bat wings, cobwebs, and flowing gowns of lace and black velvet. When everyday is Halloween, an "Unseen Element" may be just the one most suited for the occasion.

Invisible Records / Underground Inc. seems to agree. This chicago-based music label provides real opportunities for supportive involvement within the underground music scenes, often transforming pipe dreams into accessible realities for musicians.

Founded by Martin Atkins, the Industrial Punk founder of PIGFACE (made famous by countless internationally touring, independent musicians performing together for many years as PIGFACE), Invisible Records / Underground Inc., recently drew Mortal Clay into submitting 2 new songs for an upcoming release of "NOTES from the REAL UNDERGROUND," an on-going series of music compilations bent on bringing new indie music from underground artists into every music store on the planet! What's more is that this music label is doing it!

Join us now as we drop in on a discussion with Mortal Clay...

IMWT: Who produced Mortal Clay's full-length debut, the Unseen Element?

Kidby: We independantly produced it and Timothy Stollenwerk mixed/mastered it.

IMWT: What relationship does Mortal Clay have with Invisible Records?

Kidby: A couple of our songs will be featured on the fifth disc of the "Notes From The Real Underground" series of compilations, which are put out by Invisible Records.

IMWT: How is Invisible Records helping Mortal Clay to extend its music to underground music enthusiasts everywhere?

Kidby: These compilations are distributed internationally and sold at every music store near you. So, it will help a great deal by giving us exposure to new fans, as well as giving us more opportunities to provide support, by way of live music performances, opening for established musicians who are signed to Invisible Records already.

Marco: It's also good for us to hook up with other bands like us around the country.

IMWT: Where is your music available for purchase?

Kidby: We're actually shipping our cds for free to anyone in the US, but if the shipping is to another country we require compensation for shipping costs. All a person has to do is conact us via our web site with their mailing address and name for postage. Our cds are also available FREE at our performances.

IMWT: Describe audiences most likely to tune into Mortal Clay?

Kidby: Gothic and industrial, although all types of listeners have expressed appreciation for our music.

IMWT: Mortal Clay features which member musicians now?

Kidby: The line up is Marco and myself. I've had several years of voice training, some drum lessons, play guitar, and lot's of experience in and around other bands.

Marco: I play/program keyboards and an electronic drum set. We both equally do the song writing. Aside from a year or so of piano lessons I'm self taught.

IMWT: Where does Mortal Clay plan to gig next?

Kidby: We're in the process of setting up a show date at The Paradox Theatre in Seattle, and still booking for our next show in Portland (probably The Satyricon).

IMWT: Where does Mortal Clay reside and perform most often?

Kidby: Portland, Oregon.

Marco: The last two shows were at The Backroom for our single and full-length album releases. The one before those was at The Vogue in Seattle. The Backroom is cool because its pretty much Portland's only Goth venue, and it gets a good turnout.

Kidby: It's fun playing in Seattle because it's a bigger city and it gives us an excuse to hang out with our Seattelite friends, but performing at The Backroom has been a real treat because the audience is so perfect.

IMWT: What soundscapes does Mortal Clay unleash?

Kidby: I've always been attracted to Goth and Industrial. So, naturally, that reflects in our music, but I make an effort to create a unique sound at the same time.

IMWT: What is the band doing through music?

Marco: We're trying to add our piece to the puzzle.

IMWT: What is the purpose/mission of Mortal Clay?

Kidby: As with the American Indian traditions of having a postion in a tribe, such as Medicine Man or Chief, we endeavour to take our place as musicians in the grand tribe of humanity.

IMWT: If you weren't exploring and unleashing music, what else might you be doing?

Kidby: I'm just so compelled to create music and perform it. If I didn't feel so driven to do it I would do whatever else I felt I really must do. However, I also make independent movies which I could not live without the act thereof.

Marco: I love art of all kinds. I chose to make music over any other art form because it was what I could see myself dedicating my whole life to. I'd probably be making visual art right now otherwise.

IMWT: Tell us about the next music release planned by Mortal Clay.

Marco: We're currently working on the next album. It'll be ready for release by next Summer.

IMWT: Any remixes of Mortal Clay available or in-progress?

Kidby: Chris Ryze made a remix which is on the last track of Unseen Element, and we're planning on making a dance remix single for clubs.

Marco: We welcome anyone wanting to do remixes. Just email us.

IMWT: What will Mortal Clay be unleashing for fans between now and next summer?

Kidby: We'll put out a single this Winter as a precursor to the next album due out in the Summer 2003.