The Flipsides
Clever One (Pink & Black)
By: Alex Steininger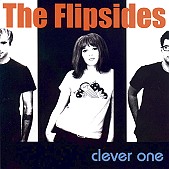 Let's get the obvious comparison out of the way. Yes, The Flipsides sound like The Muffs. They crank out sexy, loud, fast rock 'n' roll that plays tug-of-war with power-pop and pop-punk. They know a good melody when they write it and have no problem getting you to sing along while you bop your head and tap your feet to their infectious, catchy, saccharine rock songs.

But, hey, The Muffs were great, and there is definitely room for more great bands like The Muffs. Besides, The Flipsides, though obviously Muffs influenced, are not a Muffs knock-off. They pay homage to a great band, the way The Queers paid homage to The Ramones or Rancid pays homage to The Clash.

The songs on Clever One are just good. They're poppy, they're fun, and they make you feel good. You just can't go wrong with these guys. Put the CD in your CD player and you'll be hard pressed not to smile. I'll give it an A-.