Floater
Alter (Pantheon Music)
By: Alex Steininger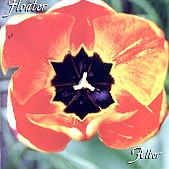 Alter is distinctively Floater. For those that know Floater, one can pick a Floater song almost instantly. Front man Robert Wynia has a voice that can't be replicated, one that can scream and shout along with a sledge-y guitar one minute, and the next be completely melodic and reel you in as the trippy grooves of his band back him up.

Not surprising, the band is the same way. One minute they're luring you in with tribal-induced grooves and the next they're ripping your head off with fierce metal. That is how the majority of their songs start out; tribal, yet danceable before splitting off into harsh, yet somehow still danceable metal.

You see, there is no one else out there like Floater. A West Coast phenomenon, the band has built up a loyal following in college towns up and down the West Coast, garnering the tag "Pink Floyd meets Pantera". Though, as accurate as that tag can be at times, it is quite limiting, and doesn't do the band justice.

Creating mental-inducing visuals, not unlike Pink Floyd, or even acid, Floater's music builds these images in your mind with the help of rhythm-heavy grooves. And, once you're high as a kite and complete submerged in their music, they let loose, unleashing the metal fury that propels them to another plateau.

Trading off between these two platforms, Floater has managed to create a distinctive sound, always branding their songs to the point of listener recognition instantly, but still staying fresh. Most bands would have fallen pray to repetitiveness years ago. But thanks to great musicianship and a style all their own, Floater dodges all cliches and keeps moving forward with their sound. They even spread their wings a bit and take a chance on "Hollywood", a runaway country-pop hit with hooks. I'll give this a B.