Paul Westerberg
Stereo / Mono (Vagrant Records)
By: Alex Steininger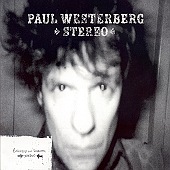 It's sad when your heroes fall. Paul Westerberg has always been, in my mind, the best rock 'n' roll songwriter. But just like other great artists such as Paul McCartney, whose "Freedom Song" is a desperate cry for Sir McCartney to hang up his guitar, Westerberg's latest, Stereo (the acoustic record) and Mono (the rock record) find him going through the motions.

The Grandpaboy EP, released on indie Monolyth Recordings in 1997, hinted at a Westerberg who wanted to have fun, stripping away any expectations and delivering a record ripe with the carefree, punk attitude that made him great.

However, Mono, released under the Grandpaboy moniker, and packaged with Stereo, finds Westerberg giving fans a half-assed attempt at trying to recapture his rock crown. What flaws the album is Westerberg's seemingly caring attitude, something that has always stood in his way, whether it was his attempt at a hit record (Don't Tell A Soul) or his need to move on and leave his past behind (Suicaine Gratification).

That's not to say Mono isn't a decent, or even a good album. It has stellar moments and is quite good, for a new or up-and-coming artist. But for an established artist with a history of some of the most powerful, potent numbers you will ever here, Mono just doesn't make the grade.

It sounds like a man who has lost it all and doesn't care to the point of feeling he needs to care. Picking up his guitar and rocking out, giving fans what they want, all the while knowing his heart isn't into it, nor is the fire that he once had.

Now, I'm not one who wants "Answering Machine" or "Bastards of Young" again. I just want Paul to put his heart into it, as he did on the Grandpaboy EP, kicking out fun, rocking numbers that are void of any expectations from him or fans, something that gives you the middle finger while everyone embraces it. And this is not it.

"High Time" would be a cream-of-the-crop song for any run-of-the-mill bar band, the song that would give you hope that they will record a great record down the road. The guitars buzz, the rhythm section keeps things moving, and the hooks are sharp.

"2 Days 'Til Tomorrow" is another exceptional song, this time one that is even worthy of the Westerberg name, a song that is rough and tumble, rocking, and melodic. But, as much as it hints at something bigger and better for Paul, the rest of the album just doesn't deliver.

Then there is Stereo, Paul Westerberg's official new album, and his obligatory record that is supposed to prove to fans he's matured and moved on from the days of Let It Be and settled into a more domestic, but equally valid songwriting role.

That is not the case though, even more so than Mono. Stereo finds Westerberg showing his age and reluctance to try to move anyone except himself. A selfish move, which isn't always a bad thing, except in Westerberg's case as he gives fans the proverbial finger, indicating that he has indeed moved on and wants everyone to forget his past and focus on his current body of work.

As a new parent, I find myself singing along with "Baby Learns To Crawl" and loving it. The song speaks from the heart, opening Stereo and offering hope that Westerberg still has spirit left in him, as he finds himself admiring his son's new experiences.

From there, however, Westerberg cares for nothing but to prove how much he is still the punk rocker not caring about anything, offering up songs that are being written as he records them, some of which cut off in the middle because the tape ran out. Flat notes, fluffed lyrics, and the general appearance of demos fill out the album. Westerberg seems to not want to put energy into anything, recording the songs once and leaving it at that, even if the song didn't fully get put to tape.

Of course, this general disregard and do-what-I-want attitude is what makes Westerberg such a star, let us not forget that. And if he was delivering us songs like "Skyway" and cutting them off in the middle, songs that are alive and have something to say, as he sings from his gut, I would have no problem with his decision to leave the songs as they were.

However, Westerberg goes full circle with this idea. Putting little detail into the songs, picking up a guitar, playing something, walking away, and doing it again, regardless of any errors, even on songs that need attention and some care because they just don't even attempt to make a statement or be anything more than background filler.

This attitude was carried over to Westerberg's recent in-store in Portland, Oregon at Music Millennium, where he seemed to not care at all, playing Mats songs (which was quite the treat, don't get me wrong), albeit no rehearsals or practice whatsoever. He came to the fans, played the songs, and seemed to only give a darn about his new stuff. The rest was a passing memory to him, as he obliged fans and gave them what they wanted, even if it made him unhappy.

I wanted so much to love both these albums. I think the Grandpaboy EP features some of the best post-Mats Westerberg songs, and that all three of his solo albums - 14 Songs, Eventually, and Suicaine Gratification- have exceptional works that will go down as some of Westerberg's best pieces.

But, what Westerberg has given us here is stuff he threw together and called a record, recording it entirely at home, producing it himself, and just putting something to tape and hoping, because it is Westerberg, fans will eat it up.

What Westerberg needs is to either not care enough to the point where he wants to have fun again, which is not the case here, or get together with some collaborators (like a producer who can push him) and put his heart and soul into it. I still believe in Paul and will wait for this day. In the interim, I still listen to these two albums, as they are both decent, but they make me feel cold and empty. I'll give them both a B-.