Paul Westerberg
Suicaine Gratifaction (Capitol Records)
By: Alex Steininger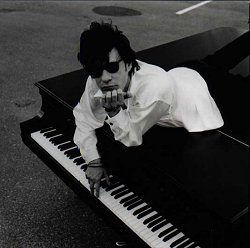 Through the years, the entire 80's decade to be exact, Paul Westerberg has provided audiences and fans alike with some of the most potent, brilliant songs ever to be conceived. From the teen-angst anthem of "Unsatisfied" to the comical "Waitress in the Sky," Paul has always been able to express life like no other.

But then the Replacements came to their inevitable demise, leaving behind the post-punk legacy Paul helped create, while also opening up doors for a solo career with high expectations. Of course, the last Replacements album was virtually a Paul Westerberg solo album (the other three members of the band appeared as guest musicians).

Continuing where ALL SHOOK DOWN (Sire/Reprise) left off, 1993's 14 SONGS was Paul's attempt at creating the Replacements magic on his own. The album had its good times, and bad times to match, but overall was decent. Then, EVENTUALLY seemed to find Paul halfway between his new voice and his past. Despite many fans disapproval of this album, the often tired, sometimes laid-back feel was surrounded by dazzling pop hooks. The album showed Paul could still rock out while reaching down and toying with gentler pop ambitions, and even a piano ballad remembering Replacements' great Bob Stinson.

Low sales and frustration made touring a chore rather than a chance to show the world what he was about, and at the end of the tour Paul decided to split from his label of twelve years for the hopes of a big push from Capitol Records.

The outcome is the much-anticipated SUICAINE GRATIFACTION. Trying to put his past finally to rest, Paul opts for more piano and less guitar throughout the album. He seems content, often settled with his new direction.

But, is the album that much of a stretch for the man who once said "Those who love us the best are the ones we'll lay to rest" over a pounding rock backdrop? Well, if you look at the album in the context of "new album from the frontman of The Replacements," yes. But if you listen to EVENTUALLY and the direction it hinted at, the album is nothing new for Paul, rather a continuation and a chance to reflect on life through the use of softer, gentler instruments like the piano and acoustic guitar.

Take "It's A Wonderful Lie," the opener, for instance. Paul's tender voice leads the way over light acoustic guitar and bass, with melodica, the cello, and an accordion thrown into the mix to help add a breath of fresh air to the song that states "What am I doing? I ain't in my youth. I'm past my prime, or was that just a pose?"

But even the lighter side of Paul reveals its rock tendencies on the "Best Thing That Never Happened." A stripped down pop number, the song plays through like a three-piece pop-rock band on stage jumping through some mild, yet touching, moments with a reminiscent voice on the microphone singing with a tired essence that easily warms up on the listener and keeps you hanging on every word.

Then there is "Lookin' Out Forever," the first single off the record and probably the most rockin' number by definition. Unfortunately, the song has too many flaws to make it a valid contender among some of the other cuts on the album. As with some previous solo material, the song seems to be a forced rocker to recapture his past, while also trying to put it behind him -- a very tough thing to do. Of course, Paul has always had a great ear for tremendous pop hooks, and his ears haven't failed him on this song. The hooks are strong and infectious, too bad the chorus over stays its welcome and drags the whole affair a bit too long for you to want to keep it going.

"Tears Rolling Up Our Sleeves" is another gentle pop-rock number that packs a world of emotions in every word. As Don Was (the producer of the album) stated earlier, "...every line has value and there's not a wasted word." Very true for this genuine tale of a man in love. Recently becoming a father, Paul's admiration for the life he has created, and the blissful love he shares with his wife, is hinted at in lines such as "Pregnant for minutes and bored for hours. Not soon enough he'll be all ours. Is it fiction or fact, we're identically sad? To be with him for just one night, would you throw away your whole damn life?"

With all the happiness and joy that surrounded him during the creation of this album, he gets too tender and opens himself up with emotional numbers that miss the mark due to their confused, hideous nature. "Sunrise Always Listens" is a good example of this. The main instrument is the piano, though a thick, metalish guitar is thrown in to destroy everything the song accomplished. Beyond that though, Paul seems to struggle with an intimate number that relies on the ivory keys and the potent words (which are lacking) to carry the song. He just doesn't seem to have the strength to make it work.

Although Paul seems to become a bit more comfortable, and clearer, on the album closer, "Bookmark," he still struggles with creating brilliant lyrics that made his songs so great -- quiet or loud. Although the music and voice meld in perfect harmony, and the song keeps its head above water, his flair for lyrics seems to be lost as the mediocrity of this song sums up portions of this album all too well.

To answer his own question, he may not be past his prime, but this album is just a pose. There are a few directions he travels on this album, both pop-rock and adult pop, and he needs to decide which way he wants to take it if he wants the album to work. It has its moments, true, but it also has its lesser numbers, which drags the album down. I found a lot of good stuff behind some of the muck, and, after awhile, the album did grow on me. But, any fan of Paul's knows he is capable of so much more. I'll give it a B-.