Paul Westerberg
Come Feel Me Tremble (Vagrant Records)
By: Alex Steininger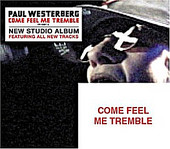 I'm a huge Paul Westerberg fan. He, to me, is the greatest songwriter of all-time, writing sloppy punk rock songs alongside tender ballads, moving pop masterpieces, and in-your-face middle-finger shakedowns, often all on the same album. He could be witty, tongue-in-cheek, wear his heart of his sleeve, or downright poetic. Anything he put his mind to, he could do.

Now, I speak in the past tense because, well, Westerberg's latest, Come Feel Me Tremble, doesn't live up to his name. Sure, it's a solid record of good, fun, sloppy rock 'n' roll songs, a record a lesser artist would be proud to call his own.

For Westerberg, though, it doesn't hit the mark. It lacks creativity, it lacks dynamics, and it lacks style. Here is a musician acting out his press, living the part of the "over the hill" musician "past his prime". And I don't believe it.

Come Feel Me Tremble, Westerberg could... he can do better. And he will. I have faith in him. Still!

I loved 14 Days, his first solo album. I thought Eventually was another slab of genius. Though neither record lives up to The Replacements legacy, both were phenomenal albums. And his first (and last) record for Capitol, Suicaine Gratifaction, had some filler, but was a genuine album and quite good, spanning the gamut from piano ballads to acoustic guitar poignancy, and through pop-rock, hook-laden gold.

Then came Stereo/Mono, Westerberg's double album (the Mono half credited to his alter-ego, Grandpaboy).

It was Westerberg's return to an indie label, Vagrant Records (the same label that released Come Feel Me Tremble), a label known for their emo darling bands.

His return to an indie label. And what do we get? Stereo, a record that goes out of its way to prove Westerberg still lives on the edge and does things the way he wants. Including writing and recording songs while the tape is rolling (or so we're told), even cutting off in the middle of a song because the tape ran out.

And Mono, where Grandpaboy can rock out and have fun - no pressure, no expectations. However, when the original Grandpaboy EP was released on his now manager Darren Hill's label, Soundproof/Monolyth, in 1997, it was recorded without any expectations, any pressures, just so Westerberg could have fun, kick back, and rock out. And it was brilliant (despite my initial review to the contrary).

This time around, Mono was recorded with everyone knowing it was Westerberg - thus pressures, expectations, and so on. And to be a rock album, at that, compared to the acoustic Stereo, the carefree attitude was stripped away, replaced with opinions and burdens.

So we were given Mono, a generic bar-rock record that, don't get me wrong, had some shining moments that made me proud to call Westerberg my songwriting idol.

Stereo had some good moments too, moments were Westerberg seemed really into it, into being Westerberg, not uncontent, not unhappy, and not bogged down by regrets and bitterness. He seemed comfortable in his skin.

For both albums, however, this was the minority, not the majority.

But I didn't give up hope. Much like I haven't given up hope now.

However, listening to Come Feel Me Tremble, and I can't help but feel... should I give up hope? I keep telling myself, "If the next album doesn't gather your full, undivided attention, Alex, walk away!" I can't, though, this is Paul Westerberg we're talking about.

Back to my train of thought... Come Feel Me Tremble is a good, rugged, rustic-at-times, sloppy bar rock record with some rambling moments into folk-rock, but a sloppy bar rock album nonetheless.

What is gone is Westerberg's priceless lyricism, his pull-no-punches call on life and his ability to look inside you, look inside himself, and describe exactly how you're feeling, how he's feeling, how everyone around you is feeling.

There are still hooks to be found on Come Feel Me Tremble. There are toe tapping rhythms. There are moments that make you want to bounce up and down. But, after a few listens you grow tired, which any Westerberg/Replacements fan can attest to, doesn't happen with Westerberg's best, and certainly doesn't happen with any Replacements stuff.

So it is with sad regret I say this. Come Feel Me Tremble disappointed me. It bored me. It made me feel old. Like I was resigned to listen to songs like Unsatisfied, Here Comes A Regular, Bastards of Young, Valentine, and the countless other Replacements classics I still live my life by and go to when I need their inspiration.

Simply put: Come Feel Me Tremble is void of inspiration. It's void of attitude. It's void of reckless abandon and the "fuck you" attitude that made Westerberg a cult legend. He might as well be another rock 'n' roll musician trying to churn out records to pay the bills and feed his family - all things I can't knock him for - and forget who he was. But, I think the was is still in him and his best record - maybe his best solo record (to be safe) - is still yet to be created.

Like I said, Paul, I still have faith in you. See you soon! Until then, I'll give this record a C. Sorry, you're my favorite, so we both know I'm extra hard on you.