RAIL
Adio (Dynasty Records)
By: Alex Steininger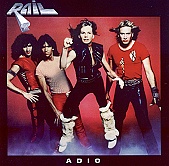 RAIL's "1-2-3-4 (Rock 'N' Roll)" is the greatest rock 'n' roll song you've probably never heard. Written by someone other than the band, but brought to life by the classic Northwest cock-rock ensemble, the song's chorus screams:

1-2-3-4, what are we living for? Rock 'n' Roll! Rock 'n' Roll! 5-6-7-8, what do we appreciate? Rock 'n' Roll! Rock 'n' Roll!"

It doesn't get cheesier than that. However, put into context (it was originally released in 1984), the song is a timeless ode to when rock 'n' roll was fun, careless, and carefree. It wasn't about wanting to kill yourself, for the most part. It was about having sex, doing drugs, and having a good time. Getting the gang together and partying until you dropped. And that is why RAIL is such a fun time.

Adio, their second album, being released for the first time on CD, with bonus video and CD-ROM extras, is a dated, cheesy record. That is also what makes it so timeless and great. Get drunk to the mesmerizing solos of "Fantasy", "Live With The Wind", and "Her Majesty". And don't forget to blast the songs as front man Terry James Young rocks you with his almost-feminine sounding, classic rock screech.

Let the good times begin. Put on some RAIL! I'll give this a B.