Rahzel
Make The Music 2000 (MCA Records)
By: Alex Steininger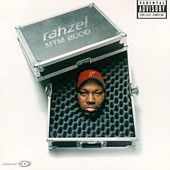 Literally taking hip-hop back to its roots, Rahzel, the "Godfather of Noyze," and self-proclaimed "vocal percussionist," takes the human beat box further than anyone before him on his MCA Records' debut, MAKE THE MUSIC 2000. Using only his cheeks, gums, lips, Adam's apple, and voice he is able to create an amazing rhythm section that sounds amazingly, well, "real".

The title track, equipped with tremendous percussion grooves, is unreal. I can't picture a man creating these sounds with his mouth. It's so hard to believe, but is true, which is quite amazing. The rhythms are sharp, as well. "Carbon Copy (I Can't Stop)" and "Night Riders" are two more examples of how Rahzel can fuse his human beat box grooves with good rhythms.

I am still in amazement that the percussion grooves on this album are not created by a drum machine or a drum kit, but rather Rahzel. All through this album my jaw was on the floor as Rahzel never stopped amazing me. Here is some sharp hip-hop music that will have you grooving track after track as the rhythms flow like water. The percussion grooves are top notch and the music fused together is practically heart stopping; I'll give this an A.