Quasi
Early Recordings (Touch and Go)
By: Alex Steininger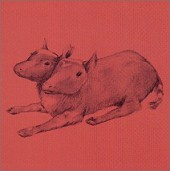 Following Motorgoat's disbanding, Janet Weiss and Sam Coomes, the main players in Motorgoat, decided to go by the name of Quasi. The result was their debut full-length, Early Recordings, which was originally self-released.

A demonstration to the more free-style quirkiness of the band rather than their digestible pop-formatted tunes, Early Recordings is a free-flowing look at a band that has come a long way, able to craft ear candy pop songs that stay in your head for days on end. They didn't start out that way, though.

Early Recordings finds Janet Weiss hammering away at her kit, producing wild, unconfined beats that are juicy and full, filling out the songs and giving them a rock edge that will knock you on the floor.

Coomes trades off on instruments, creating a wall of noise when he picks up the guitar, or a sonic garden of electronic melody with his Roxichord organ, helping to push the experimental sounds of the band above and beyond anything capable in the pop realm.

Though it is easy to understand why the band would create pop-oriented songs (they're damn good at them, for starters), listening to Early Recordings makes you long for a more experimental Quasi. One that just doesn't care, hammers something out, and looks back on how great the end result is. Much like Early Years. I'll give it an A+.