INTERVIEW: Mark Helm
Gary Pig Gold Confronts Mark Helm With Eight Questions (Not Lame Records)
By: Gary "Pig" Gold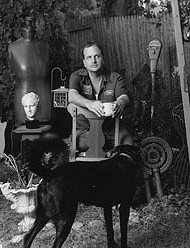 Mark Helm's solo debut, the orch-pop noir gem Everything's OK was released earlier this year by Not Lame Recordings. A former songwriter/guitarist for the critically acclaimed DC-based pop band radioblue, Mark spent recent years living and playing music in Scandinavia, where the bulk of his record was recorded. The Washington Post called the record "elegant," and once observed that his songs "have more hooks than a fly fisherman's vest." That naturally lead us to wonder--..

1. "MUNSTERS" OR "ADDAMS FAMILY": WHICH ONE'S FOR YOU, AND WHY?

Munsters, hands down. There was something more 60's and authentic about that show. I mean, the set was actually musty and dank. And something about cousin Marilyn and how she related to the weirdly exotic as if it were mundane.

2. WHO IN THE WORLD, LIVING OR DEAD, WOULD YOU MOST LIKE TO PLAY A GAME OF "TWISTER" WITH?

Tough one. Well, if it was Naked Twister I'd pick two: a young Doris Day and Ingrid Bergman. I'd take Bergman even with clothes on. God, I hope no one said Albert Einstein.

3. HOW MANY SID KING & THE FIVE STRINGS RECORDS DO YOU OWN?

Sadly, none.

4. IF YOU HAD BEEN WORKING THE FRONT GATE AT GRACELAND THAT NIGHT BACK IN '76 WHEN A DRUNKEN JERRY LEE LEWIS SHOWED UP, SHOTGUN IN HAND, TO "PUT THAT DAMN ELVIS OUTTA HIS MIS'RY," WHAT WOULD YOU HAVE DONE?

Tough question. A young martyred Elvis sounds pretty good. Then again, fat Elvis dead on a bathroom floor littered with pills and teenage girls' cotton panties is a tough image to let go of. Guess I woulda knocked him out, taken the gun and gone possum huntin' with the King.

5. "GINGER" OR "MARY-ANN": WHICH ONE'S FOR YOU, AND FOR HOW LONG?

Mary-Ann forever.

6. WHAT SINGLE SONG, LIVING OR DEAD, DO YOU MOST WISH YOU'D WRITTEN-- AND WHY DIDN'T YOU?

I wish I'd written "God Only Knows." Brian Wilson got there first. Purely an accident of birth.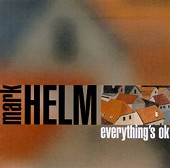 7. WHOSE GUITAR WOULD YOU MOST LIKE TO BE REINCARNATED AS?
Neil Young's. It'd be a hard but satisfying life.
8. IN 2000 WORDS OR LESS, YOUR HOPES, ASPIRATIONS AND GOALS , MUSICAL OR OTHERWISE, FOR YOUR LIFE AND YOUR COUNTRY?
I just wanna sell enough records to justify spending money on the next one to my wife. Seriously, it would be nice if I could just keep putting out a record on Not Lame every couple-few years. A little wider audience would be nice, but I'm not holding my breath.
Goals for my life? Jeeze -- to be able to retire while I'm still young enough to enjoy it (that is, no day job when I'm 60). To be a good father to my son, Cooper. To do good whenever I can and do no harm. Pretty standard stuff, really (no luge lessons, though).
For my country? To help end the tyranny of rich polluters and all the other monied interests that control our country. I mean, for chrissakes, we're living in an plutocracy ...just look around. Having a President like Bush is a fucking embarrassment.15