The Jesters
...Which Is Nice (Self-Released)
By: Alex Steininger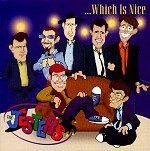 A seven-piece band from the Chicago area, The Jesters are quite the fusion of old-school funk, third-wave ska, pop, hip-hop, and a bit of punk. With so much going on musically, they offer up a very eclectic sound, but also tend to lose themselves in all the fun.

The first time I heard these guys, from a demo tape awhile ago, I was quite captivated. They were wacky, hyper, and fun, while also taking a semi-serious approach to their music. The funk fusion bothered me at first, because not many bands are able to fuse good funk with pop or ska, but after a bit I realized it was vital to carry off their humor. Their horn section is quite good, and their lyrics have a nice sense of humor mixed in with a lot of personal feelings relating to relationships and such, but sometimes the music gets too crazy for its own good.

The thing about the demo tape though was I wasn't blown away by the musicianship, but I kept going back to it because the songs were stuck in my head. Now, the same is true for their debut CD, ...WHICH IS NICE. Their sound is a bit messy sometimes, while also showing a need for a more cohesive sound, but each time I listen to it there are a few that get stuck in my head and won't leave. "Zombie Skank," "Humpty Dance," "Closure," and especially "Welcome to Clown School," are the ones that I keep singing and singing when I haven't even listened to the disc in a few weeks. They just pop up in my head one morning, and then won't leave.

They pull off their pop hooks with flying colors. I mean, you can't listen to this disc and not mutter a few lines from it once or twice for the next week or so. You just can't, it's not possible. Besides the humor aspect, though, there isn't much content here. The music comes off as one big joke good for a few laughs, a few dances, and many nights of singing along and having a blast. A good pick me upper. That's what it is. An instant smile on your face when you need it. I'll give it a C+.