Jesse Powell
'Bout It (Silas/MCA Records)
By: Sylvia White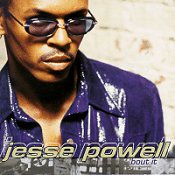 It has been a long while since we have heard anything from this young man on the R&B front. During his hiatus, he, unlike many artists has truly laid low on the musical tip. On this sopho---- more album, Jesse seems to have veered off a bit from his prior album and all of it's great ballads. He is more urbanized with what seems to me to be a "rush job". Though his vocals have not faltered in any manner, the work itself is comprised of "wanna-be" hits at the sacrifice of the material itself.

On, "I Wasn't With It", we hear Jesse getting a hip hoppish with this up-tempo track that is rather catchy and even at times slick with it's production. "I Can Tell" is a mid-tempo track that borrows a harmony from one of the more popular rap songs in the early '90's, but namely, the song entitled, "Summer In The City". It is a dance-able tune that doesn't miss much. A head- nodder to say the least. "She Wasn't Last Night", sounds like something from the R. Kelly/ Kelly Price production team. Only difference is that this is a rather corny song with even cornier lyrics. His delivery is to the point of being an insult to himself. I just can't dig this one! "'Bout it, 'Bout it", sounds like something out of the Bone Thug camp. It is a slow wind track that is smooth and saved only by Jesse's vocal ability. This is also where it becomes rather clear that Jesse's style has changed. On, "Are You Missin' My Love", we hear Jesse try to reclaim that ballad feel to the album but it's not successful. His vocals are lovely as usual but it's just not working!

"Up and Down", NO! The title itself, explains it all. Maybe someone should have told him before he went into the studio, to ignore the guy in the red suite with the contract and blood filled ink pen! Can we say "sold out!" OUCH! The folky and acoustic tracks, "You Should Know"and "You're The One I Love", are the only glimmers of light on the album besides the re- cast, "You" from his first album. These three tracks are the only statement from this second album that let's us know that Jesse has not lost all his marbles and gone totally "hip" on us. These three ballads are what he should be about, they are what he is best at.

This entire album gets a pitiful 3 from me, leaning towards a 2. With the last three tracks being the only reasons to raise this thing from the dead, I am saddened to even listen to this thing. Jesse Powell is a talented and diverse young man. I am thinking of writing a letter to Jesse so that this won't happen with the next project. "'Bout It" makes me think of a serious rush job, unkept! Please R&B listeners, I really think the last three tracks are worthy of hearing so find a way to hear them. Jesse Powell is a wonderful artist and to catch his talent, be sure to pick up his first release in order to get a glimpse of his abilities, also, so that you won't be scorned with this sophomore release. Jesse, I adore you. Never would I forego my CD, because I know of your talent, I have been captivated by it. Maybe next time the ballads will come and my heartstrings will be tuned by your sweet harmonies once again..but not this time 'round. Keep listening R&B fans.