Season To Risk
Men Are Monkeys. Robots Win. (Thick Records)
By: Alex Steininger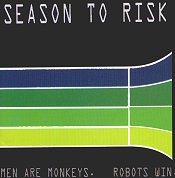 Hailing from Kansas City, Season To Risk blends metal and noise rock to come up with their own brand of thrash. Driving a screwdriver into an already opened wound, their sound slices its way into your sores, making you feel every little note. Too bad it just stings, and not in a favorable way either.

Making sure every little note has a nice sharp edge to it, they end up sounding as if they're trying too hard to be tough. The sound is soggy, coming off as a bunch of random notes fused together and hoping something sticks. With strong metal tendencies, the songs end up tripping over themselves.

I listened to this CD, couldn't stand it, then shelved it for a few days. After going over their bio and press pack, I decided to give it another shot. But nope, I still didn't get it! It has no soul, sounds way too contrived, and just doesn't do it for me. They couldn't even muster up enough energy to prepare one song that was appealing. There was nothing I liked on this album. It all ran together and made no sense whatsoever. I'll give this a D-.