Pansy Division
Absurd Pop Song Romance (Lookout Records)
By: Alex Steininger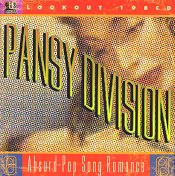 San Francisco is well-known for their gay community, and here to re-enforce that notion is Pansy Division. Proud of who and what they are, their music has been 'punk' from inception. Now, on their first album as a four-piece, they enrich the sound and record a blissful pop-punk album that will have you singing along from the opening chords until the final drum beat. Recorded with Steve Albini, the all-too-famous producer, ABSURD POP SONG ROMANCE begins a new chapter in the Pansy Division story.

After the quick, eighteen second intro of the opening track (which I have no clue about), the music quickly begins. When you hear the first few seconds of "February 17," you know that you're in for a very poppy album that still maintains all the 'punk' ground it rose from.

As you listen to "February 17," you'll notice your lips moving along, and words are coming out. Yes, you'll be singing along and having a grand ol' time. The chorus rolls around in your head with such fluency, you'll be humming along even when the song isn't blasting out of your stereo. The guitars slice through your mind, leaving slick hooks behind that will jab and poke you in the side until you act on them. The drums keep time beautifully, pounding and prancing around in the background with tremendous impact. Then there is the bass, which is more than a powerful rhythm tool, but more like a chain that keeps the songs in tact, while allowing its own presence to be felt. The whole song is well constructed, re-assuring you that their move to a more pop playing field was the right direction for them to head.

Diving deeper into the pop spectrum, "Better Off Just Friends" subtly hides the punk so the pop can be viewed in full force. Sweet and juicy, you'll instantly take a liking to this song. Even with the homosexual references this song carries, heterosexuals will be able to relate to the song. A generic topic dealing with love and relationships, as you listen, you can't help but feel sorry for this love affair gone sour, while also stirring up memories that hit close to home. Highly impacting, Pansy Division lays the song out so clearly, you don't have to go one way or another to get all the insight it offers.

As with past songs, Pansy Division's humor shines through like the bright sun on a day after the rain has began to disappear. "Luv Luv Luv" attacks the human depiction of love and sex. "People sing about 'Luv Luv Luv', and it sounds like blah blah blah, because they really mean SEX SEX SEX," rings throughout the chorus in such a humorous, but true, nature that you can't help but crack up laughing at our society's downfalls. Definitely an album standout, once you come to this track you'll be hitting the repeat button over and over again.

Calling upon influences like Elvis Costello, the Beatles, and other pop masters, "You're Gonna Need Your Friends" is the kind of song that you find yourself listening to over and over again, always drawing something new from it. A track about a person who gets a new lover and stops calling or doing anything with their other friends, the universal appeal to this song, and the vibrant pop feel, make it a track you won't want to be without.

Hands down the most comical track on this disc, "Tinted Windows" is a praise to, well, 'tinted windows.' Opening with the line "Your roommates don't know, and there's no place to go. 'Tinted Windows' are a wonderful thing," these type of lines pop up one after another, keeping you smiling and singing along without even trying.

If there was even any question if the Pansy Division could stay true to their roots, while shaking things up with a lot more pop, then this will put all those questions to ease. Yes, they can incorporate mass amounts of pop, a slicker edge, and still keep the punk mentality, humor, and free spirit alive. Here's to a great album, I'll give it an A.

Click here to read an interview of Pansy Division in this month's In Music We Trust!