Pangs
Stalemates & Sad Pastimes (Panther Fact Records)
By: Alex Steininger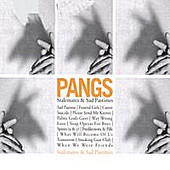 Portland, Oregon-based indie-rock outfit Pangs deliver a solid debut with Stalemates & Sad Pastimes, a record that captures the care-free, do-it-for-yourself rock attitude of 80s college rock, setting the fire underneath themselves with that post-punk momentum, while playing strongly to their modern day indie-rock leanings.

Pangs have fun with their influences, at times focusing on more flourishing pop melodies. While other times they are more content writing loose, seemingly meandering indie rock nuggets.

It is these two sides that make the band's sound seem fresh and intriguing, as they deliver jangle-y, bouncy pop goodness that kids who like toe-tapping beats will smile about, but indie kids won't ignore, either. I'll give it a B-.