Agoraphobic Nosebleed/Cattlepress
Split LP -- Red Vinyl (Bovine Records)
By: Jeb Branin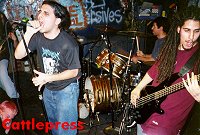 How could you possibly go wrong with two such amazing bands on one platter? You can't, of course. Bovine Records has produced some of the finest records ever made and this may be one of their best. AGORAPHOBIC NOSEBLEED are rapidly establishing themselves as the gurus of frenzy and the kings of blast. Their trademark is (almost) blur speed thrash executed with the tightness of a Republican at an AIDS fund raiser. The vocal chores on this record are primarily handled by Aaron from ULCER/PAINDRIVER so you know the intensity is as high as the screech factor. Sean from THUG also lends his distorted voice to the project and make a nice counterbalance to Aaron. Scott Hull has one of the most violent guitars on the planet and he is cranked on every tune. A 'Killing Technology' era VOI VOD tune ("Forgotten in Space") is one of the highlights of the AND side simply because VOI VOD rule my universe.

On the flip, CATTLEPRESS provide a total contrast to ANB. Satanic sludge/grind is the name of the game with anvil heaviness rolling over you with glacier force. However, not all the tunes are plodding, in fact there are moments where CATTLEPRESS threaten to actually get fast but everything is so distorted and HEAVYHEAVYHEAVYHEAVYHEAVYHEAVY that the speed they are playing at is irrelevant. This is music that actually beats you up. Doom Violence? Why not? This has been out awhile and is a limited pressing so you will definitely want to get your act in gear and order this now!