SHOW REVIEW: Johnny Dowd
October 1, 1998 -- Maxwell's (Hoboken, New Jersey)
By: garypiggold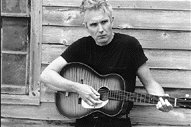 It was back in the fall of 1996 that a strange little disc called WRONG SIDE OF MEMPHIS first crept into my life. Like some Dramamine-soaked response to Johnny Cash's AMERICAN RECORDINGS, its stark, bleak tales of back-road behavior and questionable after-dinner practices immediately stuck themselves to the back of my head like fingernails across the wall of a falling elevator.

The author of said album, a deceptively suave character from Nowhere name of Johnny Dowd, just happened to bring his band into Hoboken the other night -- and damned if it didn?t take but two songs for him to tip the entire evening over onto its backside. With his supremely skilled henchmen (keyboardist Mike Edmondson and, I kid you not, a drummer named Brian Wilson), zero time was lost establishing the mood in a hauntingly anemic, subtly menacing way. Sparse yet intense, as in very early Doors, but without once abandoning the playful inventiveness of a bunch of kids who just discovered the On switch, this threesome made no bones whatsoever about veering towards "Black Magic Woman" or even PLASTIC ONO BAND: LIVE PEACE IN TORONTO -- Side Two, of course -- whenever the spaces between verses got particularly long in the leg. I thought I detected the genteel strains of "Up From The Skies" in there somewhere too, but maybe it was just the Maxwell?s veggie burger speaking. This all from an act chosen to warm up for no less than rooty-rocker-of-the- moment Robbie Fulks, I must now point out.

As for Johnny himself, imagine if you dare some wayward hybrid of John Fogerty by way of Don Van Vliet: but that would only begin to describe the manner in which this man approaches his remarkable repertoire of song. One moment ruminating upon the guilt-ridden touch of another woman?s flesh, a second later recounting the details behind a certain catastrophic coma (which took place in Oklahoma), it felt at times as if no less that C. Bukowski Himself had swung a Strat ?round his neck and gotten off at the wrong end of the subway platform. And kindly be aware I?ve never once had to resort to such a zealous analogy before.

When the set finally howled to its conclusion, the entire room nervously exhaled, exchanged glances with one another, and then slowly but surely began creeping towards the stage in nervous pairs and threesomes, content just to bask momentarily in Johnny?s wise, dark glow. Strangely, the object of their obsession seemed content to simply hawk a few more t-shirts before driving onward to Boston. Indeed!

Yep, fuss all you want over the grade school Lou Reedisms of those Cowboy Junkies, or the post-alt.-insurgent-C&Whatever of Son Volt / Whiskeytown / etc.: In a way unheard since the glory daze of Syd Barrett and Suicide, Johnny Dowd and Band are making the kind of music that bravely aims for the mind by way of the neck, leaving mere "twang" for those who rarely, if ever, aim above the waist.