SHOW REVIEW: John Doe/Brian Berg/Sean Croghan
August 18, 1999 -- Portland, Oregon (Berbati's Pan)
By: Alex Steininger



The show was originally billed as John Doe and Frank Black, but due to an unfortunate death in the family, Frank Black had to remove himself from the bill. And even though his loss was missed, the legendary frontman for X, John Doe, 44 Long's Brian Berg, and Portland, Oregon's Sean Croghan filled the voice with three separate, stellar solo acoustic performances that will remembered by all those in attendance for quite some time.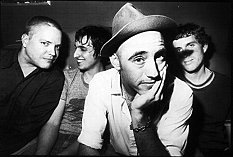 With his pop band breaking up only a few months earlier, Sean Croghan, an acoustic staple of Portland for the past decade, recently decided to give up the acoustic shows as well, opting instead to go back to his New York-style rock 'n' roll roots. Besides, as he puts it, he's happy now and doesn't see the need to play depressed songs about love and life. He just wants to have fun.
When he entered the stage, he thanked the audience for all their support, mentioned that this was going to be his last acoustic show, and then once again put his heart of his sleeve for the last time as his tender voice strained throughout the heartbreak, long nights at the bars, and general disorder in life. Starting with the first song he ever wrote, and moving through a setlist that spanned his acoustic performances as well as band compositions throughout the year, Croghan gave the fans one last taste of what has always been so special about him: great songs, a bunch of humor amidst the sad songs, and a one-man stage show that is nearly impossible to match.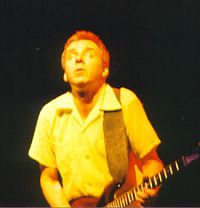 Next up was Brian Berg, the frontman for Portland's 44 Long, a band that has seen their fair share of critical acclaim on their two full-length albums, including an article syndicated through the associated press that praised their latest effort, INSIDE THE HORSE'S HEAD.
Breaking down 44 Long songs to a more simplistic folk-country base, Berg brought to life the tender roots pop-rock which 44 Long thrives off of and demonstrated that a great song will shine no matter how it is played. Having never seen him acoustic before, but being amazed at his performances with his band, I was knocked on the floor to see him put the same enthusiasm and respect that he puts in 44 Long performances into his solo set. Classic 44 Long numbers like "Up On Blacks" and "Noelle" never sounded so intimate and pure, you couldn't help but want to hear Berg perform all night.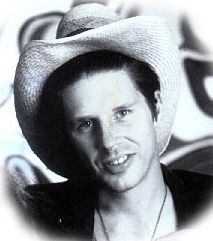 But, there was still one man, John Doe, to come. As the crowd filled out and the anticipation mounted, John Doe finally took the stage ten minutes later and from there on out there was no turning back. He quickly dived into gut-wrenching solo songs before announcing, "I hate when I go to a show and the person on stage plays songs I don't know. That's why, I'm going to play some X songs for you. Would you like that? Of course, the crowd went wild as John Doe made good on his promise and started to mix in the solo material with X material played in the solo atmosphere.
As he bounced from song to song, with his rugged, been-through-it-all looks and even more dead-on lyrics, each number found you more and more in his world. Crowd members were singing along and there wasn't a single soul in the bar who wasn't having the time of their life. But, of course, all good things must come to an end. At least, until the crowd screams for more.
Coming back out for an encore, Doe drove it home with three more acoustic numbers strong enough to put a tear in the eye of the strongest soul. A heart warming, heart-on-the-sleeve rendition of The Replacements' "Here Comes A Regular," a bit more up beat and less pain-filled than Paul Westerberg's original, but still as potent and powerful, really seemed to put a cap on the night. But, being the performer he is, John Doe wasn't finished. He played another one of his brilliant originals and then exited the stage, thanking everyone for coming and then saying goodnight.
Of course, the night was still relatively young, at least for anyone who wanted to see more John Doe. So, as the crowd screamed and stomped their feet for more, Doe came back out on stage and gave them more of what they wanted. Picking up the electric guitar that had just earlier been on the receiving end of one of Doe's between song jokes ("This electric guitar is nice, but it looks like it's just going to be a stage prop all night. Too bad.") Picking it up, he played one of the most powerful, from-the-heart numbers of the evening, which he described as his "happy" song. Dealing with the tragedies of life and the pain accompanying it, the song offered one solution: "Fuck It." I can't think of a more appropriate ending for the legendary X leader to exit the stage with. Truly a brilliant performer in every sense of the word, John Doe is just as vital now as he was in the 80's L.A. punk explosion.