INTERVIEW: The Spinanes
Rebecca Gates -- singer/songwriter (Sub Pop Records)
By: Alex Steininger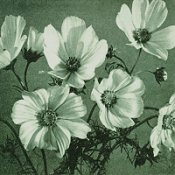 Re-locating to Chicago after former drummer (and second half of the band) Scott Plouf left for Built To Spill, Rebecca Gates is now carrying on The Spinanes as a one piece -- with the help of friends in the studio, of course.

On her new album, ARCHES AND AISLES, she proves that she can do just fine as a one piece. A bit refined, compared to previous work, the focus is still melodic pop-rock with a lot of heart and soul.

Catching her at the end of one tour, while she's getting ready for another, we started to talk about everything that is now happening for her now.

Alex: Let's get the obvious one out of the way: Why did you decide to keep the Spinanes name alive, especially since ARCHES AND AISELS is virtually a solo album?

Rebecca: Do you want the facetious answer or the straight answer? Really, I didn't want to come up with a new name and I didn't want to use my name. So, The Spinanes was the only choice left.

Alex: Was there ever a doubt in your mind regarding keeping the name? Did you ever think of just using your name?

Rebecca: Nope. Basically, I never thought of using my name and never had any doubts about keeping the Spinanes name. Scott didn't have a problem with it, so I stuck with it. There was nothing better to use.

Alex: Now it's time for the 'must ask' question...What are some of your musical influences?

Rebecca: A lot of blues, R&B, and anything my parents listened to. Then there was the Beatles and Rolling Stones. But now I listen to a lot of jazz, soul, and rock 'n roll. Stuff like the Beat Happening and The Jam.

Alex: What are your musical goals for 1999?

Rebecca: I've got a lot of stuff coming out soon. We're [The Spinanes touring as a four piece] going to tour the U.S. again and hopefully Japan. We're also making some 7"'s. One 7" will come out on Sub Pop, which will be Rolling Stones covers, and another 7" will come out on Merge. Merge will also be releasing the first two Imp singles on CD. Then we're going to have a song on a Chicago compilation, and hopefully, a remix EP coming out in the near future.

Alex: On the road, what do you do for fun?

Rebecca: Sleep! (laughter) I like to walk around. I don't play pin ball, video games, or anything like that.

Alex: Do you have a favorite city or venue to play? If so, why?

Rebecca: Chicago is a favorite of mine. It's been a favorite of mine for a long time, even before I moved here. I've always had a lot of fun here. San Francisco is a favorite of mine, we have really good shows there. Basically, any city with friends are great. The clubs, however, are not so great. The differ from city to city.

Alex: How do you feel about Portland?

Rebecca: Portland isn't at the top of my list right now. We just played a show there and not that many people showed up. I thought we should have drawn a lot more people, so I don't know what to make of Portland. I don't know if they hate us or what?

Alex: If you could tour with anyone, who would it be and why?

Rebecca: I would love to tour with The Rolling Stones! I would also like to play with Charlie Watts every night.

Alex: Is there any road experience that stands out in your mind?

Rebecca: We just got off a two month tour, and you know what? I can't think of anything. On our way to Nebraska though, there was some flash flooding where people lost lives.

Alex: What do you enjoy and hate about the music industry?

Rebecca: I enjoy the fact that someone still puts out my records. I hate the business aspect of everything.

Alex: Is your next record going to be on Sub Pop?

Rebecca: As of now, my contract is fulfilled with them. So I don't know where they next album will end up.

Alex: Are you looking elsewhere?

Rebecca: I'm looking for the best option, yeah.

Alex: Is there anything you would change in your musical career?

Rebecca: No, not really. I learned from everything, especially the bad stuff.

Alex: What are the highest and lowest points you've experienced as a musician, so far?

Rebecca: The highest point would be the fact that I've made three records. I'm very pleased to have made this many. Touring is always fun, as well. The lowest point would be going into the studio and having to make the records.

Alex: What made you want to be in a band?

Rebecca: I've loved music for as long as I can remember. I resisted playing for so long, then someone heard my songs and it went from there. They told me I should play my songs for people, so I started playing parties and such. It just got bigger and bigger.

Alex: What goes into good music making for you?

Rebecca: A lot of work! A lot of time, too. There is no magical formula. Complexity, pretty melodies, and a very good beat are important. You also have to make the music meaningful in some way.

Alex: What inspires you to write your songs? Life?

Rebecca: Yeah, all of the above. I just start putting things together, they're never from one place. I'm like "Fuck that," I hate that kind of thing. I never draw inspiration from one source. It has to come from a bunch of things.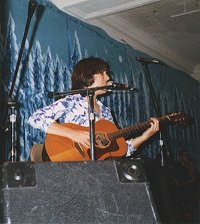 Alex: What do you want the listener to get out of your music?
Rebecca: I don't know. I don't think of the listener that much. But, hopefully the music will give them a little strength. And it will make good company for them when they're alone.
Alex: What kind of mind set did you enter the studio with for ASHES AND AISELS?
Rebecca: I went into the studio and tried to work more on the songs, and not work on everything as a 'whole album piece.' I also went in to work on my singing. And I had a lot of fun in the studio this time around.
Alex: Did you use a different approach to recording this album than you have in the past?
Rebecca: I didn't approach it that much differently. John McEntire used a computer with a hard disk, which I had never done before. I really liked it, and would like to use more of it in the future.
Alex: Did the lack of another person creating musical-friction hurt your creative process in any way? Or were you more comfortable by yourself?
Rebecca: I enjoyed everything this time, both as a songwriter and a producer. I'm the type of person that needs to put everything to record before it's complete, and I found it a lot easier to do when I was the only person in charge.
Alex: How do you feel the new album differs, and how do you feel it is the same, from the two previous full-lengths?
Rebecca: In general, the songwriting is stronger. The style of music is still the same on all three records. The Spinanes still play pop-rock. The first record was basically a live album, where we went right into the studio and bashed everything out. Album two was about mood and textures.
Alex: Did the move from Portland to Chicago affect the writing process? Did it affect any of the content, like lyrics?
Rebecca: Yeah, the move definitely affected everything. Getting out of Portland, meeting different people, and the whole atmosphere -- the lights, weather, and buildings -- helped change what I write about. I couldn't have made this record living in Portland. I gained a lot of confidence out here. Working with different people was the best thing for me.
Alex: Do you think you'll ever find a solid backing band, or will it always be a rotating position?
Rebecca: I don't know. I enjoy the changing line-up. It's a good way to learn. However, on the other hand, I like working with the group of people I'm currently with me. We work well together.
Alex: If you were to try and sum up ARCHES AND AISLES with a theme or a persistent message, could you?
Rebecca: In a recent interview, the interviewer said it had to do with distant, changing places, and women getting fed up and not taking it anymore. That's a funny way to put it, but somewhat accurate. It's about women's place in life, but men like it a lot too.