INTERVIEW: The Specials
Interview with Horace Panter, bass player
By: Jen Brown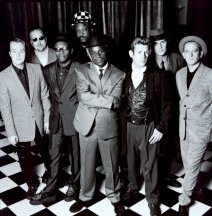 The following interview was conducted on May 29, at the Sony Blockbuster Entertainment Center during the Y100 Fez-tival. The Fez-tival was a show featuring about 20 bands. One of these bands was the British based ska band, the Specials. The bass player of the Specials, Horace Panter, was kind enough to sit down and chat with me for a few minutes, it went something like this.

Me: So, what have you guys been up to lately?

Horace: A lot of traveling on buses, and a fair amount of jumping around on stage, and making a loud noise. Our record went out towards the end of March. So we have been pretty much constantly touring. We play a lot of radio promotion tours, like this [Y-100 Fez-tival]. We did the snowboard season, which is quite interesting if you like playing in the teeth of a blizzard, to a lot of people dressed a lot warmer than we are. We have been doing shows, we've got the Warped Tour, which starts the at the end of June. And we do that for six weeks. So basically, the records out, so here we are, promote, promote, play shows, play shows.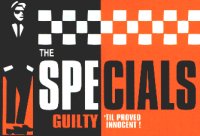 Me: What brought on the new record?
Horace: Lack of finance. When we got back together in 1993, we played the old stuff, because that's what people wanted to hear, because there was the ska thing going on in America. We thought since we were out here, why don't we get some songs together and make a real record.
Me: What do you think of the new ska wave that has hit America?
Horace: I think its great. If that wasn't happening, I wouldn't be happening. Although we started, perhaps we were responsible for setting the scene, to start the thing off in 1983, you know, us, the Bosstones, Fishbone, Bim Skala Bim. If it weren't for them lugging around America in cramped little Dodge Vans towing U-hauls, playing for 200 people for $200, for eight to ten years, we wouldn't be able to come back. So, its cycling. They give us respect for starting it, however we give them respect for keeping it going.
Me: How long have you been preforming together?
Horace: In this incarnation, since the tail end of 1993. The original Specials started in 1977.
Me: You have a bit of a feel for the American ska scene, by playing these festivals, however what is the British ska scene like?
Horace: Pretty tiny, there are a few bands in England, but that's about it really. That's the nature of Britain and how fashions work, things come and go very quickly. Now you have to be from Whales, or be a dance troop.
Me: You know you like the Spice Girls, who is your favorite Spice?
Horace: Baby Spice, she doesn't look so nasty.
Me: Do you wish you could have a doll, like the Spice Girls, a Specials doll?
Horace: A Specials doll? Maybe a Specials Voodoo doll, with pins and things. No, actually, not really. It's nice to have people come up to you and be like "Oh Horace, you're bass playing is great! We named our children after you!" but, nobody is special, as the song said, and if you think about it, the Bosstones are making more money than we are.
Me: How do you feel about that?
Horace: Fine, I think its great. We get along great with them.
Me: Is there any reason that the Specials have more or less shied away from singles on the radio, videos on MTV, basically the route the Bosstones have taken recently?
Horace: We are competing in the same market, the Bosstones have been around longer than we have, they have been releasing new records for longer [the Specials formed before the Bosstones, however, they broke up and reformed with new musicians in 1993, therefore the "new" Specials have been releasing records for a shorter time than the Mighty Mighty Bosstones.], we haven't really had any new product out for a while. We need to bridge the gap from being the godfathers of ska, not that we are, the Skatillites are, but the godfathers of the second wave, to competing with the third wave. I don't like to look upon it in terms of competing or competition, we just are here to play. With us coming back we can raise the profile of the scene, make people more aware, more people, more money.
Me: Define Ska, give me a real definition.
Horace: Originally ska was a form of music, invented in Jamaica, played toward the end of the 50's into the early 60's, by instrumental ensembles, in the same mode as jazz. Walking bass lines were taken from R&B, and they would take that and put Calypso and African rhythms to it, accenting the off beat of the guitar. It is very rhythmical music. The whole reason that I heard the music was called "Ska" was because the guitar went "ska-ska-ska." Eventually the guitar slowed down and it went "arege-arege-arege," so it became reggae. It was kind of the first Jamaican pop music, along with Calypso, it later became Jamaican pop music, and evolved into different styles, Blue Beat, Rock Steady. Later Bob Marley came along and gave it serious lyrical content. But what I think ska turned into is a very good, three letter buzz word used to incorporate an enormous range of styles.
Me: It seems pretty obvious that you realize there are a lot of bands out there that have been influenced by the Specials, how does that make you feel?
Horace: It is fine, but I am not going to get too carried away by it, I'm not the sort of person who walks into a bar and says "Do you know who I am?" I think it's great that the people from No Doubt have heard of the Specials, and Two-Tone and thought, "Oh I'd like to join the group." And now, they are living very well because of that. It's great.
Me: How does the touring, and not being able to be with your wife and child incorporate into your life?
Horace: My wife married me, she knew I was in the Specials, she knew what it meant. My son knows that this is what dad does, other dads go to work behind desks, but his dad goes to America and jumps around on stage, and hopefully comes back with some money. It's tough, but its what I do.
Me: Is there anyone playing today at the festival that you really wanted to see?
Horace: Well, we have played with most of these guys before! So, its kinda like a big reunion. Cornershop is good, but that's probably because they are British, and I am being reasonably patriotic. We did a few shows with the Foo Fighters, I like them very much, they liked us too.
Me: Are you guys planing on making a video or anything?
Horace: I would like to, the next song that they are releasing as a single is a song called "Bonediggin'." It's one of those things that you have to see if MTV is interested. It's all very well spending 35,000 on a video if it gets played twice.
Me: Do you have any feelings on groupies, I am sure you have encountered some.
Horace: I am married, I have been married for 16 years, and I intend to stay married.
Me: Many of your songs are political, people listen to the music, and maybe don't really get the political message, does that upset you, or make you feel as if you aren't getting though?
Horace: Its a difficult thing to attempt. You can end up being very pretentious, saying "Oh yes, we want to change the world." It never worked in the 60's, and it hasn't really worked since. Having groups that write songs like "oh aren't we wonderful and girls, etc," is pretty dim. I think its important to have some substance in your lyrics. I have the idea that a lot of ska bands play sort of what I like to call "Revenge of the Nerds" music, its just the frat party stuff, and they get up, drink lots of beer, and do a silly dance and then fall over at the end of the evening, and go eat pizza the next day for breakfast. It's not my, or the Specials bag, we like to talk about what's real in our songs. I think the bands that write lyrics that have intelligent meaning are the ones that sustain. I mean no one remembers Duran Duran, what are their songs about? Culture Club, Boy George is great, but what are the songs really about?