Orgy
Candyass (Elementree/Reprise Records)
By: Alex Steininger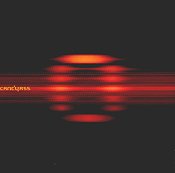 Orgy is an industrial act that creates textured layers of noise that are both inviting and enjoyable. One minute they'll draw upon a soft, vocal-centered piece that will call you in, and then they next moment they'll turn up the guitar amps and stomp through your skull with thunderous charm.

Being able to channel the layers of noise that surround you and re-focus them towards your audience, with passion and drive, is a tough thing to do. A lot of industrial bands these days lack it, or aren't able to put it on disc. Orgy's straight-forward confidence and heated attitude is able to carry them through these paths and help them avoid dull moments that may have otherwise drown them. Almost always on their mark, they're able to keep your blood rushing during both soft and hard moments alike.

When I first put CANDYASS in, I wasn't sure what to expect. But once the CD began to play, and the lightning started to attack with animal fury, I knew I was in for an adventure. The songs were all well-structured, the drums constantly trying to pull your head apart, and the rip-roaring guitars acted like they were out to befriend you before cutting you down to size.

A pleasant experience if you want it to be, or an angry ride that re-opens sheltered wounds if that is what you so desire, Orgy creates music in such a way that whatever you want to take from it you do. Now I know this is possible with a lot of music, but the big difference here is that Orgy's melodies have both the intensity and the softness that make this possible, while other bands only channel this sort of concept through their lyrics.

Well rounded, and not afraid to let everything go at once, Orgy is able to stun, quiet, and amaze within the confines of one album. Filled with twelve tracks that boost energy, to say the least, this is one band that will not let you down. I'll give this disc an A-.