INTERVIEW: My Superhero (pop-ska from Southern California)
By: Alex Steininger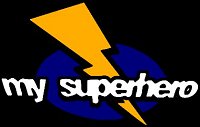 Recently signing to independent Risk Records, My Superhero's power-pop/ska blend may finally see its way out of the Southern California base that raised it. Known for being comical guys themselves, while taking a somewhat serious approach to their songs, their music has a nice blend between life and fun.

Alex: What are some of your musical influences?

Chris (drums): 311, James Brown, and Wyclef. Anymore Brian?

Brian (vocals/guitar): Your mother!

Chris: We all like Weezer, and we all like various styles of music. Everybody is different, but we all agree on Weezer!

Alex: What are your band goals for 1999?

Brian: Put out our new CD!

Alex: Is it going to be independently released, or are you looking into a label deal for it?

Brian: No, we got a label deal now. We just signed to Risk Records. They're going to re-release SOLID STATE 14 [My Superhero's second album] and help us get some recognition. As for the new album, we just finished doing demos for them last week. It should be out around February, because we'll start recording in December. A nice thing about signing with them is the fact that they're paying the bills. They're putting us out on the road to do a U.S. tour, it's our first one. Before we've just done like little one-week tours. Since The Aquabats hooked us up with this whole tour, Risk is putting us out the road.

Alex: What do you guys do on the road for fun?

Chris: We play video games in our van and watch TV.

Brian: We used to skate, but we haven't been lately.

Dan (bass): Play Sega and watch TV, definitely!

Brian: Yeah, we have a TV and video games in our van.

Chris: We also try to find a swimming pool whenever we go. But our hotel doesn't have one.

Alex: Do you guys have a favorite city or venue to play?

Chris: I thought last time we were here, and played La Luna, that was cool. But the people here are assholes [The Roseland Theater]. They're not friendly at all. DV8 in Utah is cool, The Ogden is cool...

Brian: We don't really have a favorite. It all depends on the band that we're going with. Reel Big Fish shows are always cool...

Chris: Cherry Poppin' Daddies!

Brian: Yeah, those are cool too.

Alex: If you could tour with anyone, who would you want to tour with?

Chris: 311!

Brian: I would like to tour with Ben Folds Five, but that's just me. Everyone has different favorites they'd want to tour with.

Alex: Is there any road experience you've had that stands out, either a good or bad one?

Huy (guitar): Chris got pants on stage in Idaho last time we were there.

Brian: Yeah, Dan was supposed to pull down only one layer, but he pulled down the pants and his boxers. So now Idaho is waiting for us and Chris!

Chris: Shit, I was just wearing a TV shirt then. Good thing it still covered me, barely!

Brian: Yeah, but all the girls in the front row were going like this [imitating a bug-eyed person looking up someone's dress]. They saw everything.

Dan: All the girls in the front row blushed.

Huy: Girls were turning to their friends and looking at each other with those "I can't believe I just say that" expressions.

Alex: If you could change anything as a band, would you change anything?

Huy: Costumes. We need costumes.

Brian: Yeah, like the Aquabats. We need some 'anti-negativity' helmets. No, everything's been cool. Especially since we got signed. We don't have to do everything our selves anymore. It's a lot easier.

Alex: Why did you decide to do a split release with Vegas Records for the re-release of your debut album, SKAteboard Music?

Brian: We are friends with Jon, he's a good friend of ours. He offered to put it out, so we decided to go in and do a new version of it. Besides, kids were asking about it since we still play songs off of it.

Huy: We didn't want to deal with the distribution and everything attached to it. Besides, Jon said if we let him put it out he could give us cash up front.

Alex: So it was just a one shot thing? No strings attached?

Brian: Yeah. That was before we were signed. He's got a lot better distribution than us, you can find that record at a lot more places. Places that don't even carry our second CD have that one. But now Risk has taken over our last album, so it will be everywhere.

Alex: SOLID STATE 14 is still a lot better album than "SKAteboard Music."

Huy: Have you heard the re-recorded version of "SKAteboard Music?"

Alex: Yeah...

Huy: And you still like SOLID STATE 14 better? Just wait until the new album comes out, it will blow both of them away.

Brian: Yeah, we're playing a lot more pop.

Alex: So you're dropping the ska?

Brian: Yeah. Our new stuff is...

Huy: I wouldn't say it's bubblegum-pop, it's more hard-pop.

Dan: Hard-pop? Now we're hard-pop?

Huy: We'll, we're not bubblegum-pop.

Alex: What made you guys want to be in a band?

Huy: Well, Brian, Dan, and I have been in a band together since we were in 8th grade. We've always skated or played music together.

Alex: What goes into good music making for you guys?

Huy: The guitar and team work.

Dan: Lots of beer!

Huy: No, lots of beer makes it end up sloppy. Brian writes the songs, so if they're catchy the first time, we'll go through and work on them. He tapes the songs to his mic stand, so if you see it go off within five minutes, it's done.

Brian: Either the levels aren't right, or the keys could be better, so we'll just go "next."

Alex: What inspires you guys to write your songs? Life? Humor?

Brian: Mostly life. All my lyrics are...

Chris/Huy: All Brian's songs are about his ex-girlfriend.

Dan: Yeah, that's ex-girlfriend. Not plural, but one!

Chris: Relationships, and some of the newer stuff is political.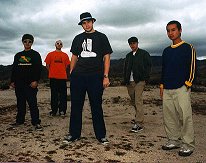 Alex: What do you want the listener to get out of your music?
Brian: Whatever they can. I don't know...I've had a lot of people tell me they can identify with what I write. That's pretty cool.
Dan: That's pretty sappy!
Brian: I've had guys come up to me and tell me they feel so much from my lyrics. I've even had some guys come up to me and explain what I'm trying to say. It's totally something off the wall, not even close to what I was thinking about when I wrote it.
Dan: Remember the write up for "Sympathy For The Ants"? We got written up in the L.A. Times, and the reporter just went off on how deep Brian was, how metaphoric he was, and all this bullshit. When in reality, he was just talking about some ants he killed the other day.
Brian: I was just talking about ants!
Huy: I thought the song was about how we were going to be kicked out of our house and everything?
Brian: Nope, it was just about ants. But if you want it to be, it can. Just for you. Back to the song...I was watching these ants one day, and I thought, "Man, they have no clue where they're going. They go up hill, then down hill..."
Dan: Then the guy talked about how deep he was!
Brian: Yeah, and I was just talking about how the ant wanted to break off from everyone else and do his own thing. Why sit there and march with everyone else? So that was just a cool topic I came up with, and then this guy came up with this cool metaphor for everything. So I was like, "OK."
Dan: OK, I'm deep!
Alex: With the new album, do you have any concepts or tentative titles?
Brian: We're still going through and thinking on the artwork. We might look at the artwork and then see what the album will be called, because right now we have no clue. We're thinking right now of a 50's family portrait of us. I have this old frame that's build so you can slide the picture from it, and it's a circle with all these funky things like flowers on it. Since SOLID STATE was all the old electronics, we thought we'd make this one likeold cars, toys, and stuff.
Alex: Do you have a track listing already mapped out for the new album?
Brian: Yeah, we have like nine songs we know are going to be on it. Some are older...we're playing a lot of them tonight.
Alex: Any re-recorded numbers or covers?
Dan: No, but we might cover an Action League song if it's OK with them.
Alex: Anything I left out that you'd like to cover?
Dan: We're hoping will get out of office!
Huy: Yeah, we got our hands on the Starr Report today! We heard about the cigar! Guess what he did with the cigar, guess where he stuck it in Monica Lewinsky? Guess! Haha, that's exactly where he put it.