VARIOUS ARTISTS:
More Than Mountains -- A Two-CD Set To Benefit Colorado Conservation (What Are Records? -- 303-440-0666)
By: Alex Steininger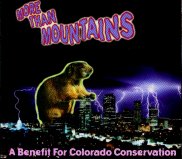 Helping to protect the Colorado region from over development, which threatens their beautiful parks and natural treasures, What Are Records? has decided to team up with local artists to put together a compilation that would not only support local music, but would support the local region as well.

When you're talking about the beauty of nature, and applying it to music, the first thing that pops to mind is folk. Mixing folk with soft pop and lots of acoustic flavor, all of the artists on this compilation stay very true to nature. Keeping the music pure, they vocals are a very important part of the music, as is the guitar.

But this compilation isn't all about folk. Keeping with a rootsy feel, there is also a lot of country and bluegrass sprinkled in on. Together they make a perfect team to keep the pace of the album very smooth and mellow, while also giving off a very natural feeling. Listening to these two discs back to back will make you feel as if you're out in the country somewhere, hanging out with a bunch of friends, and just enjoying the wilderness as people pass around the acoustic guitar and just cook up whatever's on their mind.

With two discs full of local bands, you're bound to get some rising stars. Although full of artists that have already made a name for themselves in their hometown, here in the Northwest the String Cheese Incident has obtained a sell-out following, widely known for their mixture of folk, bluegrass, and all out fun.

Getting good music is one thing, but getting good music that supports a worthy cause is another. Since this disc is all about nature and music, two of the most beautiful things on earth, I'll give it a B+.