Various Artists
Mission: Accomplished: Music From San Francisco's Mission District (Dill Records)
By: Alex Steininger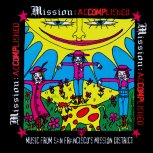 Dill Records is famous for releasing four of the five Skankin' Pickle full-lengths, as well as bringing quality ska to its fan base. Setting their well-known ska to the curb, Dill has a darker side, widely displayed on the Rudiments' album, BITCH BITCH BITCH. To a lesser extent, The Tantra Monsters also helped document the darker side of Dill. But now they have released a new 2-disc set that not only helps bring their darker side to the light, but which also helps bring San Francisco's Mission District out of the local area and onto a more national level.

The problem here lies in the fact that most of these bands are not ready for CD's, or even a compilation. Most of them sound as if they are still maturing into the demo tape phase of a band's life. Heavily relying on harsh punk beats, most of these bands sound very generic. Sometimes generic can work, though, if you have a good grasp on what you are doing, strong lyrics, and tight musicianship you can pull through and take what has already been done and make it work for you. Most of the bands on this compilation, however, need to sit down and work on playing as a team.

This compilation does cover a lot of ground. With two CD's, you get to jump around and hear bands ranging in style from industrial-rock, goth-punk, hardcore, fast punk, and garage-rock sounds. The common thread in most cases is a dark overtone. Sloppiness also seems to be a common thread between all these bands.

Even with so much loose material floating around on this compilation, there still was a few stand out moments. One of those tracks would be Hickey's "Hickey Blvd.," which starts off disc one. A straight forward punk number, the vocals work nicely with the guitar, while the rhythm section hammers away with muscle. Short and sweet, they really start off the compilation nicely. Two other nice tracks on disc one are Me First's "The Shove" and Family Scott's "Tornado." Me First serves up a rough punk ditty that, although loose, uses everything to its advantage. Fronted with female vocals, they slice in a bit of pop during a few soft moments, before spinning into high gear and giving the listeners "the shove" into a harsher setting. Like a hard hit on the head, you first feel like everything is spinning, and then everything slows down a bit and seems very calm, before picking back up again. And that is exactly how this song is. Family Scott serves up one of the most unusual numbers on either disc, an alt-country number that has a down home twang, but don't let the country flavor fool you, because this number still has the juice to rock. You can square dance to it, or jump up and down with it. Isn't that would rock 'n' roll is about?

Disc two's highlights are Dill Record's very own Barfeeders with "Speed vs. the bible belt" and Shell & Boy's "Elevator." The Barfeedes number takes a few seconds to get started, as they seem to be toying around with a swing-ish little guitar work, but soon they blast into a furious punk assault which will leave you stunned, if not floored. The drums are about as intense as they come, and the bass slams around with just as much energy. The guitar, of course, is constantly going 100mph and never takes a break. To keep up, the vocals have to spit out the words in triple time, which does hurt them a bit, as they seem to be not made for speed, but they pull it off and outcome is a nice song number. Shell & Boy's "Elevator" is a stripped down number with just a guitar and a few voices. Written by a 13 year old named Tina, this song is amazing. A good song that any twenty-five year old would be proud of, to even think a 13 year old wrote this number is mind blowing. Forget Hanson or any of that other kiddie crap, this seems to be the real stuff.

Dill should stick with what works for them, their ska-punk side, but I do appreciate Dill's willingness to embrace their other musical interests. Too many labels seem to be in it for the money, but with a compilation like this, the only reason could truly be love. And that is something to be smiled at, not pissed on. Too bad I just couldn't get into this compilation. I'll give it a C- for their efforts in promoting their scene and for going out on a limb and showing the world that there is more to Dill than Skankin' Pickle influenced ska.